Opinion
Zomato Bangalore Fiasco: Accusations, character assassination and social media trials
We have a simple question to ask – what if Hitesha Chandranee is actually the victim? Will anything undo the character assassination of the victim?
An otherwise simple interaction between a customer and Zomato delivery partner turned into an uncalled-for fiasco. What happened between Bangalore Fashion influencer Hitesha Chandranee and Zomato delivery partner Kamaraj is still under investigation. However, as soon as Hitesha posted her version of the story on her IGTV, a social media trial started.
It all began when Hitesha Chandranee ordered food from the food-delivery app Zomato in Bangalore. Kamaraj was assigned the delivery. He ended up getting late due to bad roads and traffic. As per Hitesha, when the driver reached her, she complained to the Zomato Customer Support team and asked them to cancel the order or offer free food due to the delay. As per her initial statement, the Zomato delivery partner Kamaraj got infuriated and punched her, which lead to a wound on her nose.
She narrated her ordeal with extensive details in the video. The video went viral as Instagram users shared it as a story of a victim, in this case, a single working woman who was punched by a ruthless Zomato delivery partner. Netizens were quick to jump to conclusions and the video was soon all over the internet with people talking about safety concerns, females under threat among other issues. Many users on the internet raised their voice against social media trials without hearing out the other part of the story.
Taking cognizance of the matter, Zomato offered her full support. As per company protocol, the delivery partner Kamaraj was immediately suspended from his services and was arrested by the police. However, he was granted conditional bail the next day.
Later Kamraj put out his version of the story in an interview with NDTV. Kamaraj says that he got late due to bad traffic and Chandranee was so upset at this that she started to abuse him. He said that he apologised and attempted to explain, but to no avail. She asked for a free order or cancellation from the Zomato Chat support. Kamaraj begged her since he would lose his commission.
At this, Hitesha Chandranee called him a slave and even threw shoes at him. He alleges that Hitesha suffered a cut on her nose by her own ring and not by a punch. Kamaraj breaks down and quavers when he says that he has only been granted conditional bail.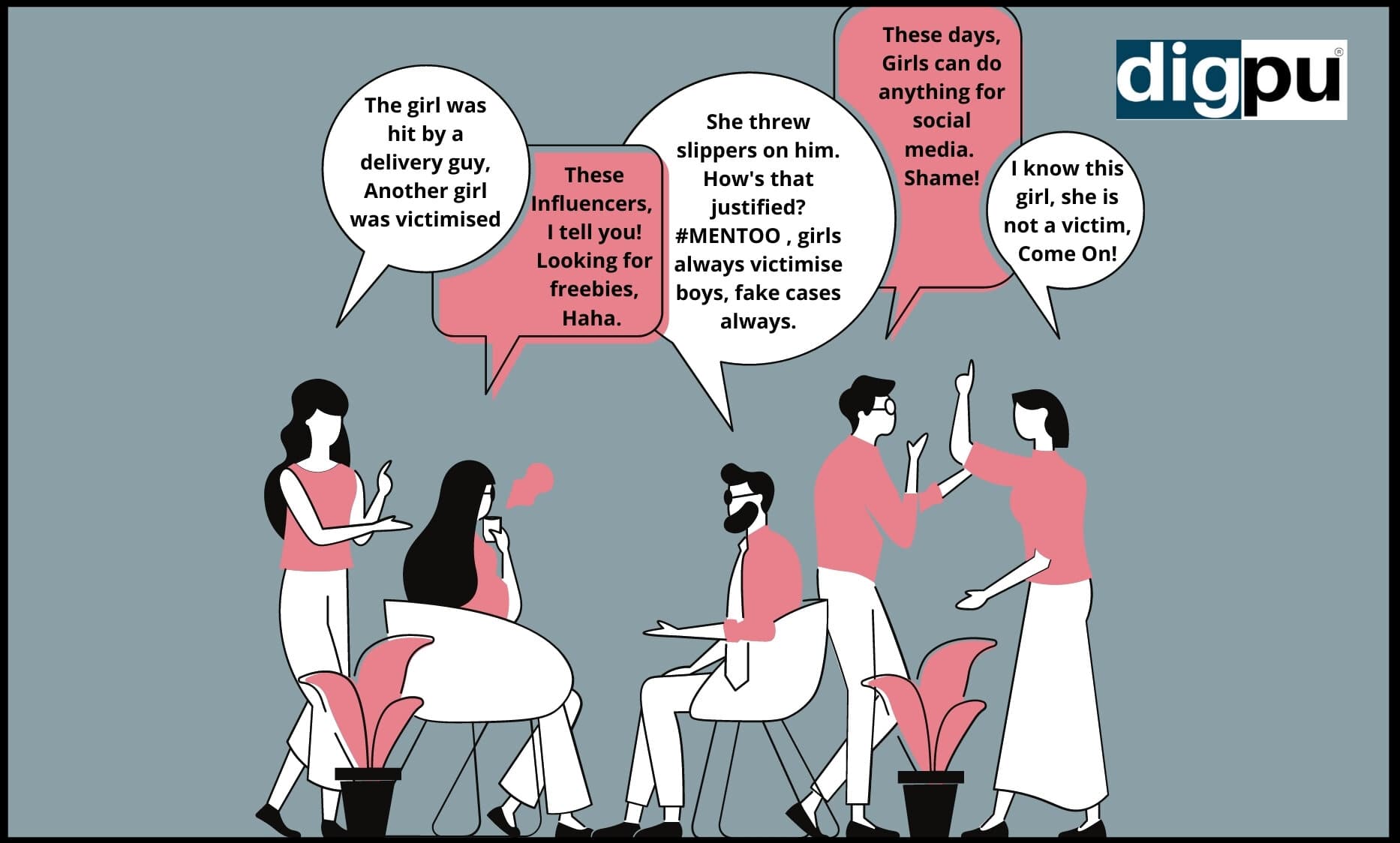 Social Media Trials
Since then, all hell has broken loose. All die-hard supporters of an allegedly victimised girl converted into #MenToo enthusiasts. They were quick to point out irrelevant points about how the girl in the discussion looked like, what brands she endorsed and everything else unrelated to the case.
Social media pages changed their stance immediately as more details came in. Later Hitesha released another official statement on her Instagram stating the amount of abuse that has come her way. However, this media trial reminds us of the Sushant Singh Rajput suicide case, which was promoted largely as a murder case and other conspiracy theories were woven to override all other real news over a period of time.
Digpu Bottom-line
As social media enthusiasts, people have been talking about the Zomato Bangalore case, as if they have first-hand knowledge, easily swinging from Feminism to the character assassination of a girl, just to gain few followers, likes, shares and subscribers.
As a society, it seems that we have derailed from the path of logic and rationality. Enthusiasts and the internet intelligentsia don't care to wait for the trial to end in sub judice matters. This leads to quick decisions and herd judgement, which can prove detrimental to the mental health and reputation of the victim in such cases. We request all our readers to refrain from making accusations and judgements out of incomplete facts.
A simple question – what if Hitesha Chandranee is actually the victim? Will anything undo the character assassination of the victim, after people have relished nibbling at someone's pride and life over dinner tables and social media pages?