India News
Politics
Meet Giriraj Singh Malinga, an MLA from Rajasthan's Bari, who got a Dalit engineer beaten half to death: He wreaked havoc during his three-term MLAship with the Congress and now eyes a fourth term with the BJP!
With 21 FIRs lodged against his name that includes attempted murder, looting and thievery, and instigating riots, MLA Giriraj Singh Malinga is a proud contributor to dragging down the standard of Indian politics.
During its infancy, politics in India was predominantly considered a generous affair. Only those people who were either academic intellectuals or had a clean and virtuous reputation were requested (by their people and political parties) to contest elections and take up the venerated task of representing the masses ("Janpratinidhitva").
Seven decades have passed since India earned her independence. With changing times, the idea, the vocabulary, the approach and motive associated with Indian politics have all undergone a radical change. Political Representatives are no longer remembered for their benevolent works and services but for the number of FIRs and chargesheets lodged against their names.
Today, we will elucidate one of the pioneers of India's muscle politics, who assaults not only government officials but also whatever dignity is left in the profession of politics. He abuses both his powers and the people who elected him to his MLA post. Meet Giriraj Singh Malinga, three-time MLA from Bari (Dholpur) Constituency, Rajasthan, who has 21 FIRs lodged against his name!
If you think he is "chakki-peesing" in jail or stands disqualified by the Election Commission of India, you are living in a fool's paradise. Bear with me as I affirm that the BJP has welcomed Giriraj Singh Malinga with open arms, and his election rallies are presently at full sway in his constituency!
Giriraj "Malignant" Malinga and his farrago of 'MLAship':
MLA Malinga is 'popular' for all such reasons that are genuinely associated with the scum of our society. The qualities that alienate an individual from the rest have compelled the people of Bari to embrace a potential criminal as their representative to the Rajasthan Vidhan Sabha! Well, now they can boast how their "Vidhayak" has 21 FIRs lodged against his name. We won't test your patience by dragging the content of each FIR, but we will emphasise a few of them.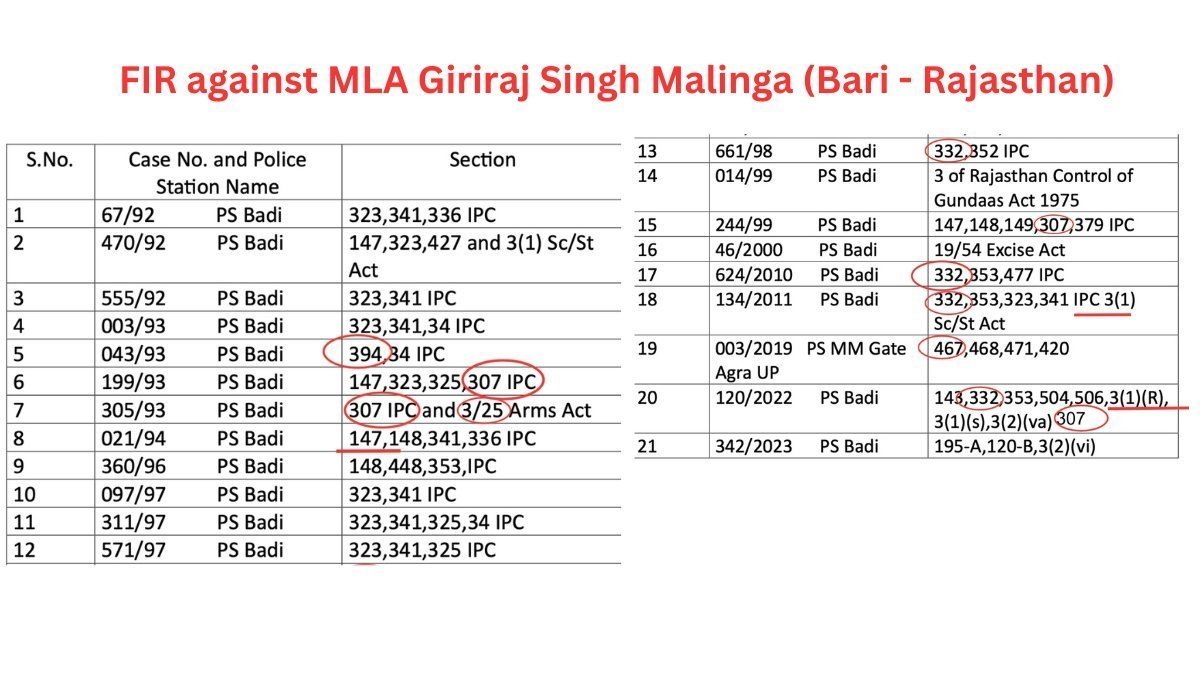 The FIRs lodged against MLA Giriraj Singh Malinga range from cases of attempted murder, possession of illegal weapons, fraudulent activities, selling illicit liquor, looting and thievery, and instigating riots to assaulting government employees!
MLA Giriraj Singh Malinga beats a Dalit engineer half to death:
Harshadipati Valmiki, a 27-year-old Dalit engineer in the Rajasthan power board, met Malinga's wrath when he showed the audacity to do his job!
On March 28th, 2022, MLA Malinga barged into Harshadipati's office, hurling casteist slurs at him. As if abusing and threatening was not 'macho' enough, he tossed a chair at his face. The Neta's underlings followed the cue by thrashing him with sticks, bats and rods until he lay unconscious in a pool of blood.
A day after the incident, an FIR got lodged against MLA Malinga and his associates at Dholpur's Bari police station under Indian Penal Code (IPC) sections 143 (unlawful assembly), 332 (assaulting public servant on duty), 353 (preventing public servant from discharge of his duty), 504 (insult with intent to provoke breach of peace), 506 (criminal intimidation) and relevant sections of the SC/ST (Prevention of Atrocities) Act. Even after all these, the Rajasthan police is yet to frame charges against Malinga and others.
What enraged Vidhayak Ji, you ask? Harshadipati had merely ordered his subordinates to disconnect the power supply to a "Thakur" village when they did not foot their electricity bill. Malinga's passion to cater to his upper caste identity got the better of him, and the 27-year-old Dalit engineer's body became the casualty. So tell us, which was MORE fragile: Malinga's Caste-identity or Harshadipati's bones?
More than eighteen months have passed since Harshadipati got hospitalised. He had to undergo four critical operations to tend to his 22 broken bones. Even his femur, the strongest bone of the human body, got shattered. The doctors opined that he was hit repeatedly in his legs with a heavy object.
As an eyewash after the incident, the police took custody of Malinga. A local court refused his bail petition, and he was placed in judicial custody for 15 days. However, the Gehlot government's police did not let their MLA face the inconvenience of staying in jail. The police soon made arrangements such that Malinga got placed in the AC ward of a 'Zilla' hospital over 'speculations' that he 'might' be Covid positive! Irony died a thousand deaths as some government officials paid homage to (potentially covid positive patient) Malinga inside his ward WITHOUT wearing any mask!
As if a botched-up investigation had not been enough (had there been any), Malinga went on a "power-displaying" campaign after his court bail got accepted. During his rally, he roared, "From every road to the Vidhan Sabha, should any member of the 'Naukarshahi' (government officials) dare to gaze down upon the 'public,' I shall blind them!"
It is interesting to note how this 'lion-like MLA' carefully sided away from the tragedy when it reached the pages of the daily newspapers of Rajasthan. When the images of Harshadipati's fractured body surfaced, MLA Giriraj 'Singh' Malinga spinelessly stated, "I did not beat him up. The 'public' did it, and I arrived later." Need we emphasise more on the bravado of Bari's heavyweight MLA?
The BJP's U-turn:
The Gehlot government's perceived indifference toward their rogue MLA finally met an end in early November when CM Ashok Gehlot visited Harshadipati at his hospital and assured him that the Rajasthan government would take appropriate steps against the 'perpetrator.' Girraj Malinga, unsettled after not getting declared a candidate for the upcoming state polls by Congress, had been eyeing other alternatives.
When the news of the lethal assault on Harshadipati had freshly surfaced, eminent BJP leaders from Rajasthan, like Rajendra Rathore, former president Satish Poonia, and former home minister Gulab Chand Kataria, visited the young engineer's abode and condemned both Girraj Malinga and the Rajasthan Congress. However, just twenty months after the abhorrent incident, the BJP embraced the chief accused of a hate crime as their new MLA candidate from Bari.
Disheartened by the shamelessness of these political parties, Mukesh Valmiki (a practitioner advocate), the father of Harshadipati, said, "They (BJP) used to come and meet my son and later give statements against him (MLA Giriraj Singh Malinga) and Congress party. But today, they have made him (Giriraj Singh Malinga) a BJP member. What does it say? Earlier, we saw him attending Congress rallies and even walking along with Rahul Gandhi in the Bharat Jodo Yatra. It makes us more upset as it's clear that the rights of Dalits do not matter when it comes to political ambitions."
Mukesh Valimiki's (victim's father) heartfelt appeal to the nation:
While speaking to Digpu, Mukesh Valmiki (Advocate) emotionally stated, "I forced my children (even Harshadipati) to take up Law as a subject to get them familiarised with their constitutional rights. However, if my country gets ruled by goons and hooligans, what good can the existing legal system do? Is this what democracy leads up to? If I, an advocate, cannot avail justice to my only son, what chances do others have against this system? If my son was a soldier in the borders, I could have convinced myself that he got injured fighting the enemies, but here he got attacked by his own countrymen."
The criminalisation of politics has become more prevalent than one could expect. A whopping 43% of the members of the Lok Sabha (233) have criminal charges against them, and 29% (159) have critical charges like murder, rape and extortion lodged against their names. The Association of Democratic Reforms (ADR) lodged a PIL at the Delhi High Court and illustrated the matter. No sooner did the Delhi HC accept the PIL than all political parties flocked to the Supreme Court asking for revocation of the plea! The parties that cannot unite on matters concerning national security got united to keep criminals included in national politics!
The reason behind the confluence of politics and the crime world is simple. A criminal, while contesting elections, can use his manpower (goons) to carry out and fund their electoral campaigns. Research by the ADR reveals that candidates with a criminal record have three times higher chances of winning an election than a clean candidate!
The circle of crime and politics would not get straightened unless people stopped voting for them. If the mandators rely on their conscience and refrain from getting intimidated by Malinga-like goons for one election, political parties would have no option but to revoke their candidature.
To conclude, we would illustrate a famous quote by former US Senator Warren Rudman, "Politics is too important to be left to politicians." We have done our part by exposing the matter, and now we rely on you (readers) to spread the word and become active proponents in safeguarding our hard-earned democracy!