Opinion
Cashing in on the 'elite bias': How an MP's fake degree is a grave insult to the genuinely underprivileged section of India's democracy
An MP from the Godda constituency of Jharkhand, Nishikant Dubey, has been put under the scanner by the JMM (Jharkhand Mukti Morcha) as they allege Dubey's MBA degree to be fake.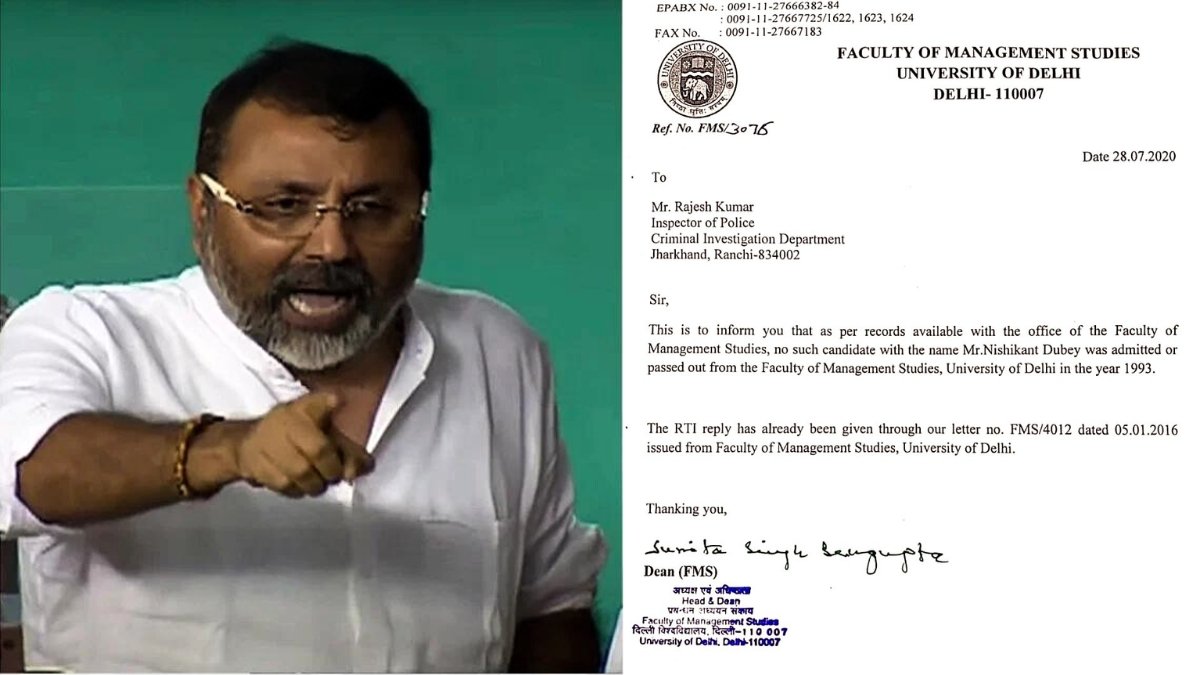 Recently, the age-old debate on the necessity of making a minimal educational background mandatory for the legislators of India got reinvigorated after discrepancies regarding BJP MP Nishikant Dubey's MBA (Masters of Business Administration) degree emerged.
The observers of Indian politics are witnessing a bothersome trend of 'fake degrees' and 'spurious affidavits' getting filed before the Election Commission before contesting in the general assembly elections.
The credibility of such affidavits filed by our Netas remains ambiguous, as even those who pride themselves over the provisions mentioned in the Indian Constitution regarding the insignificance of a 'degree' for contesting elections, too, are guilty of forging fake documents to prove their 'educational prowess.'
The motive of this article isn't shaming someone for their lack of education but exposing their double standards as they manipulate the voters through fake degrees while feigning adherence to India's non-exclusive model of democracy. If education is redundant for emerging as the leader of the masses (which is true), why advertise a 'fake degree?'
Through this article, we will illustrate how members of the ruling party have presented fake degrees and affidavits before the Election Commission and have evaded the courses of legal action.
Nishikant Dubey's MBA degree:
An MP from the Godda constituency of Jharkhand, Nishikant Dubey, has been put under the scanner by the JMM (Jharkhand Mukti Morcha) as they allege Dubey's MBA degree to be fake.
Supriyo Bhattacharya, the General Secretary of the JMM, cut a jibe at Dubey, citing a report issued through the RTI (Right To Information). This RTI report, filed by petitioner Vishnu Kant Jha, divulges that no such candidate (Nishikant Dubey) got admitted or passed out from the DU (Delhi University) with an MBA course in 1993.
In his reply to such pretence, Nishikant Dubey claimed the RTI report to be fake. Dubey wrote on Twitter, "I have completed my MBA and PhD, and my politics is clear. If you want to investigate me or lodge charges, feel free to do so. I can assure you that you shall get gutted in the end."
Dubey has faced this allegation for a long time and claims to have substantiated his degree before both the Election Commission and the Speaker of the Lok Sabha. However, the discrepancies in his affidavits are too vibrant to get ignored.
TMC (Trinamool Congress) MP Mahua Moitra recently pointed out that before contesting the 2019 Lok Sabha elections, Dubey, in his affidavit, made no mention of the MBA degree and only mentioned a PhD degree from Pratap University, Rajasthan.
In another document presented by Moitra, she illustrated that Dubey, during his PhD application, had omitted DU's MBA degree and mentioned an MBA degree from Pratap University instead. Hence, the fog around Dubey's degrees is too thick to settle.
Discrepancies in PM Modi's degree:
A claim by the Aam Aadmi Party regarding PM Modi's tentative BA and MA degrees kicked up a storm in India's political circle. The issue raised eyebrows when Home Minister Amit Shah and former Finance Minister Late Arun Jaitley addressed a press conference instead of the DU and GU (Gujarat University) declassifying the documents.
In the press conference, both ministers held up a piece of paper before the media and claimed that the issues around PM Modi's educational qualification had ended. However, AAP spokesperson Sanjay Singh addressed a press meeting and raised further discrepancies:
In the document presented by the BJP, the spelling of "University" was misspelt ("Unibersity").
The font used to write "Master of Arts" in one of the degrees was the 'Old English Font MT,' that got commercialised in 1992, whereas the document presented by the BJP leaders belonged from 1983.
In another instance, a different leader from the AAP illustrated discrepancies in the PM's name issued on both of the papers.
The BJP maintains that PM Modi completed his Bachelor of Arts (BA) in 1978-1979 from the DU and Masters of Arts (MA) in 1983 from the GU in Political Science via the distance learning program during Indira Gandhi's emergency. However, whenever the opposition demands scrutiny of the claims, they shy away from a direct confrontation.
Delhi Police punishes AAP's Tomar but misses out Smriti Irani for the same offence:
In 2015, Delhi's former Law Minister, Jitendra Singh Tomar, got arrested for submitting a fake degree in his affidavit. Later, the Delhi High Court disqualified his MLAship, and he got forced to resign.
Later when a petitioner raised suspicion over Smriti Irani's degree and discrepancies in her affidavit, the Delhi police did not show a similar zeal.
According to the petition, Irani, in an affidavit for the April 2004 Lok Sabha polls, claimed she completed her BA in 1996 from DU. However, before contesting the Rajya Sabha election from Gujarat, she stated her highest educational qualification to be B.Com Part-I from DU. Despite such glaring disparity, the Delhi police did not bother seeking accountability from the Union Minister.
Sambit Patra's bizarre Claim of clearing the UPSC:
Sambit Patra has repeatedly faced trolling on social media owing to his outlandish approach toward TV debates. During a program on Aaj Tak TV Channel, Patra bamboozled the audience by claiming that he had secured 19th rank in the UPSC examination in the year 2000.
Patra has several accolades like: MBBS, MS, and MRCS-London, registered against his name. However, the UPSC claim came like a bolt from the blue. The fact checkers later divulged that none named Sambit had cracked the UPSC CSE in 2000.
Later, Sambit Patra took to Twitter and clarified that apart from Civil Services Exam (CSE), UPSC also conducts a Combined Medical Services Examination (CMS), and he had cracked the latter.
Conclusion: Fake Degree
The Indian Constitution maintains that there should not be any exclusion of Indian citizens on any grounds if they are interested in contesting elections. Should an Indian citizen gain a substantial mandate from his constituency through free and fair elections, he cannot get disqualified on any ground. Hence, education cannot be a factor to bar entry into either the Lok Sabha or the Rajya Sabha.
Such a provision had got enacted keeping in mind the economic disparity of our nation. To prevent India's democracy from getting limited to a 'democracy by the elite,' the drafters of the Constitution vouched for the inclusion of those not privileged enough to receive formal education to participate in 'nation building' through free elections for all.
However, the Election Commission maintains that submitting a false degree is a blatant attempt to misguide and manipulate voters. Such an offence is punishable under Indian Penal Code (IPC) 191, whereby the offender can face 'disqualification' and a bar to further contesting if it gets substantiated.
Although education is a preferred parameter for electing a leader, education qualifications alone should never be a determining factor in a nation writhing under poverty and marginalisation of the masses under caste, creed, and religion.
Either way, submitting a fake affidavit is a blatant attempt at manipulating the masses and should get criminalised as hoodwinking the gullible voters. The Election Commission and judiciary must safeguard democracy through an organised machinery in collaboration with the University Grants Commission (UGC).