Education
Regional RSS Feed
RSS Feed - International
Transforming India Education: Narayana Business School Receives The Economic Times Best Education Brands 2023
"Narayana Business School, The Economic Times' Best Education Brand 2023, offers top-ranked MBA and PGDM programs. Join us for a transformative educational journey."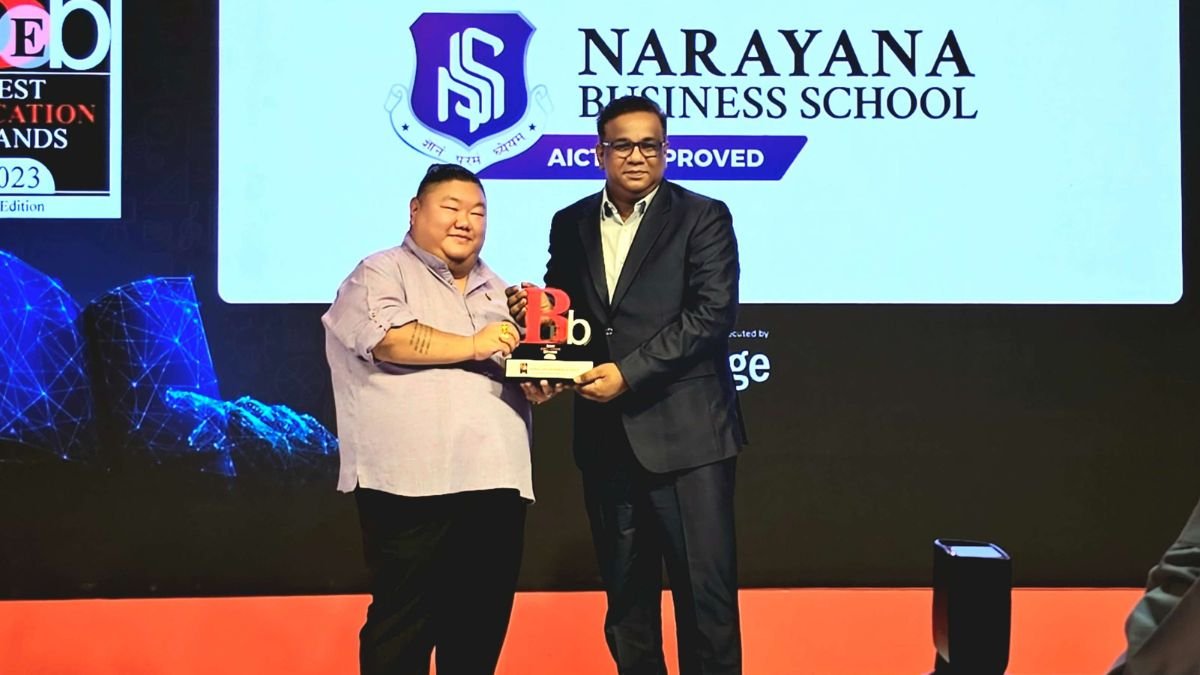 In a momentous event held in Delhi on June 29th, Narayana Business School, a highly acclaimed institution for MBA and PGDM programs, achieved a remarkable milestone by receiving the prestigious recognition for One of the Best Education Brands 2023 from The Economic Times. Led by Dr. Amit Gupta, a visionary educationist, Founder, and Director, Narayana Business School continues to stand tall among the top business schools in India, offering unparalleled opportunities for aspiring business leaders.
Keynote Address: Imparting Digital Literacy At The Hinterland | Insights From AICTE Chairman
At The Economic Times Education Conclave, Prof. T.G. Sitharam, Chairman of the All-India Council for Technical Education (AICTE), delivered a captivating keynote address titled "Sowing Seeds for the Future: Imparting Digital Literacy at the Hinterland!" This insightful presentation shed light on the pivotal role of digital literacy in shaping the education landscape and equipping students with the necessary skills for success in the modern world. Prof. Sitharam's emphasis on bridging the digital divide through innovative MBA programs resonated deeply with the audience, highlighting the importance of empowering students with a Master of Business Administration.
Celebrating The Best Education Brands Of 2023 | Narayana Business School Featured In Coffee Table Book
The grand unveiling of a remarkable coffee table book took place at The Economic Times Education Conclave. This visually stunning publication showcases the achievements and success stories of the best education brands of 2023, including Narayana Business School. As one of the top MBA colleges featured in this prestigious compilation, Narayana Business School exemplifies excellence in business education and solidifies its position among the best MBA colleges in India.
Empowering The Leaders Of Tomorrow: MBA Admissions And PGDM Admissions
Narayana Business School opens its doors for MBA Admissions and PGDM Admissions, inviting aspiring professionals to join a premier business school and embark on a journey towards success. The institution's rigorous selection process ensures the admission of the best minds, attracting top talent from across the country. With extensive industry connections, a distinguished faculty, and state-of-the-art infrastructure, Narayana Business School remains committed to providing the best MBA programs and PGDM programs in India.
Top Business Schools In Ahmedabad | Narayana Business School Gets The Best MBA Business School Rankings
Consistently securing top positions in MBA rankings, Narayana Business School reaffirms its status as one of the best MBA colleges in India. The institution's unwavering dedication to academic excellence, industry integration, and holistic development has garnered praise from industry experts, educators, and students alike. Through its best-in-class faculty, rigorous curriculum, and immersive learning experiences, Narayana Business School propels students towards success and positions them among the top MBA colleges in the country.
Thought-Provoking Panel Discussion: Analyzing The Journey Of India's Education System
The Economic Times Education Conclave hosted a thought-provoking panel discussion titled "From Nalanda to NEP: Analyzing the Journey of India's Education System: Where Are We?" The panel comprised distinguished personalities who have played pivotal roles in shaping the landscape of education in India. Each panelist brought a unique perspective based on their extensive experience and expertise in the field.
The esteemed speakers included:
Dr. Himanshu Rai, Director, IIM Indore: Dr. Rai shed light on the evolving dynamics of higher education and its alignment with industry needs.
Prof. Sudhir Kumar Barai, Director, BITS Pilani: Prof. Barai shared insights on the challenges and advancements in technical education and its role in driving innovation.
Col. Gopal Karukanaran, CEO, Shiv Nadar Schools: Col. Karukanaran provided valuable insights into the challenges and opportunities of school education in India.
Dr. Vivek Suneja, Head and Dean, Faculty of Management Studies (FMS), Delhi University: Dr. Suneja discussed the role of business schools in shaping future leaders.
Prof. Bijayalaxmi Nanda, Principal, Miranda House: Prof. Nanda shed light on the role of women's colleges in promoting gender equality and empowering young women through education.
Dr. Leni Chaudhuri, Executive Director, University of Chicago Centre in India: Dr. Chaudhuri provided insights into international collaborations and academic exchange programs.
Prof. Najma Akhtar, Vice Chancellor, Jamia Millia Islamia: Prof. Akhtar discussed the challenges faced by universities and their role in nation-building.
Choose Narayana Business School For MBA And PGDM Admissions: Envision Your Future
Narayana Business School has firmly established itself as a beacon of excellence, offering MBA and PGDM programs that set the benchmark for business education in India. With a commitment to nurturing aspiring business leaders from across the Country for the world, Narayana Business School takes immense pride in providing a transformative learning experience. The institution boasts a comprehensive industry ready curriculum and a distinguished faculty comprising industry experts and accomplished academicians. By equipping students with the necessary skills, knowledge, and network, Narayana Business School(NBS) prepares them to excel in the corporate world.
When it comes to business school admissions, Narayana Business School stands as a symbol of excellence, offering unparalleled opportunities for aspiring business leaders. With its stellar reputation, top MBA rankings, and best-in-class faculty, the institution provides a nurturing environment that fosters holistic development and prepares students for success. Whether you aspire to pursue an MBA or a PGDM, Narayana Business School is your gateway to a prosperous future.