Volvo India: 25 Years of Driving Progress and Innovation
Explore Volvo India's 25-year journey of innovation and growth in transportation. Learn about their dedication to efficient logistics, expanding product range, and collaboration with Indian expertise to lead the industry. Uncover Volvo's impact in India!
VOLVO in Latin means "I ROLL". Celebrating 25 years of success, Volvo India has been transforming the transportation sector since the launch of their first truck in 1998. Through cutting-edge technology and innovative solutions, the company continues to lead the way in the Indian market.
My intro with Volvo began in 1999 when I visited their facility in Gothenburg, Sweden, with a colleague, followed by visits in 2002 and 2005. Our focus was on Indo-Swedish bilateral cooperation in collaboration with the Swedish Embassy in India. The warm welcome at the Volvo facility, complete with the Indian flag waving alongside the Swedish flag, left a lasting impression. The prototype Volvo truck from our first visit remains a treasured keepsake.
Throughout our interactions with Volvo business leaders in India and Sweden, it became apparent that their dedication to the Indian market was unwavering from the start. Below are some noteworthy comments from these leaders over the years, which can also be found in the attached printed articles.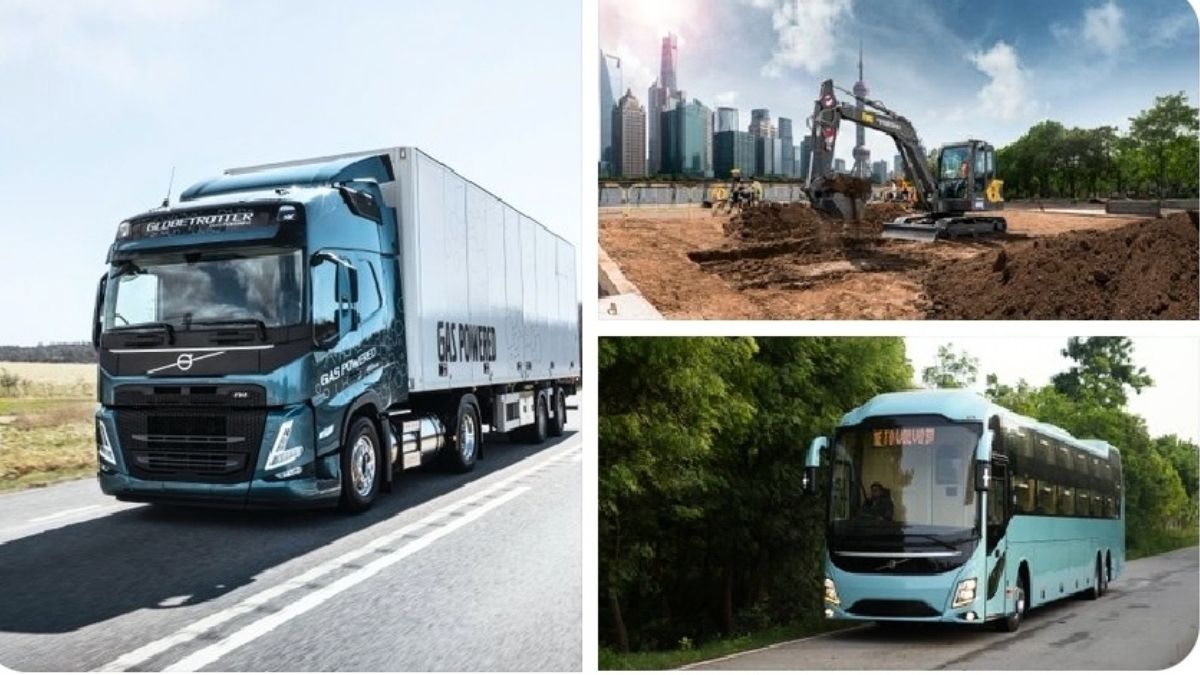 Back in 1999, Volvo India sold a modest 250 trucks on Indian roads. Ravi Uppal, MD of Volvo India, emphasized "We do not sell looks. We improve logistics, contribute to profitability. We are talking profits.". Nils Arthur, Chairman of Volvo India, stated "We are humble. We are not saying we will replace Telco and Leyland. We are merely saying, heavy-duty trucks are needed in a big economy like India".
"People are already discontinuing the use of two-axle medium trucks. There is a definite swing in favour of heavy trucks. We expect a pickup in the growth tempo. Volvo wanted to come into a sunrise market. We believe in India and Ourselves." The need for heavy-duty trucks in India's growing economy and foresaw a shift towards these vehicles.
By 2002, Volvo India had successfully delivered its 1,000th truck, marking the start of efficient trucking in the country. The company also introduced its complete range of construction equipment and Volvo Penta with over 2,500 installations in India. In 2001, Volvo India introduced the Volvo B7R intercity bus, expanding its range of products to meet the country's growing demand for efficient transportation. 
Ulf Nordqvist, MD of Volvo India, highlighted "we have entered India aware of opportunities and limitations. We know that factors such as load consolidation, and infrastructure are essential in the development of efficient transportation. On our part, we are creating the circumstances that will meet the country's growing aspiration for better transportation". He forecasted the importance of load consolidation and infrastructure development in creating efficient transportation solutions.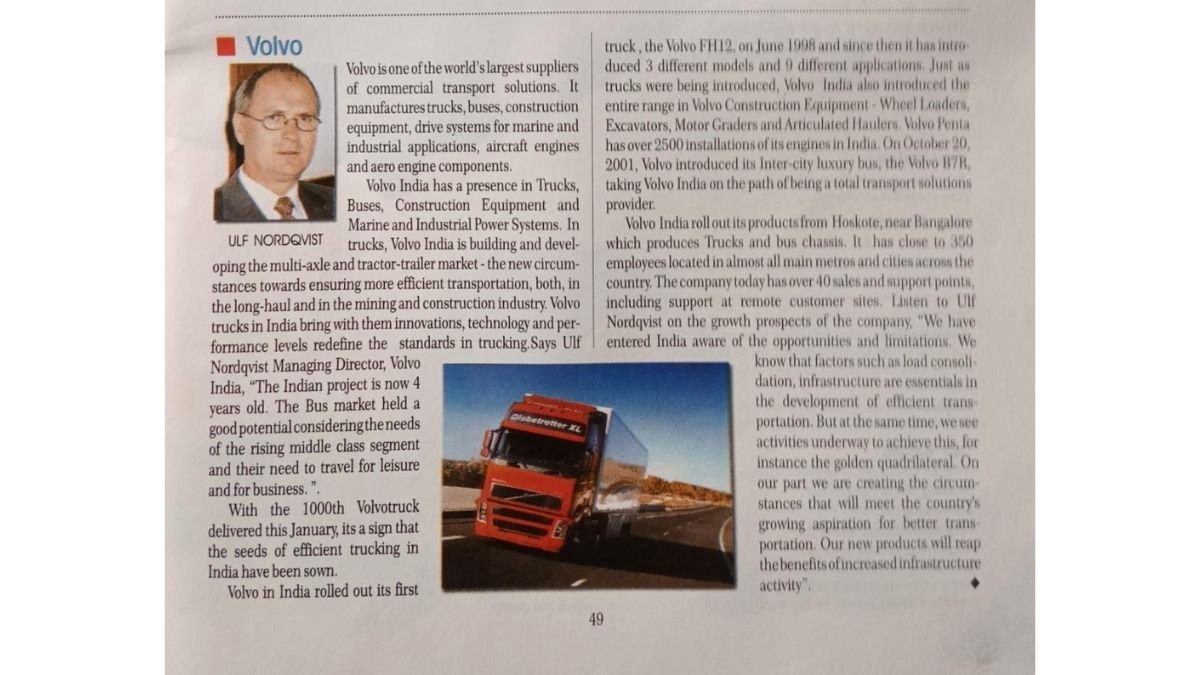 By 2005, Volvo India had shown significant growth in all its divisions, with business leaders citing the increasing demand for quality, productivity, efficiency, and high-capacity features as driving factors. Eric Leblanc, MD of Volvo India, noted the positive business climate in India and the company's strong growth trajectory.
He also mentioned, "In the last two years we have been growing close to 100 percent in each of our divisions including trucks, buses and construction equipment and all our business areas continue to indicate a strong growth chart". "For us, it's not the overall volumes that matter. What matters is the increase in the demand for quality and here we see an increasing demand for greater productivity, efficiency and high capacities features reflected in the solutions we offer. " he added.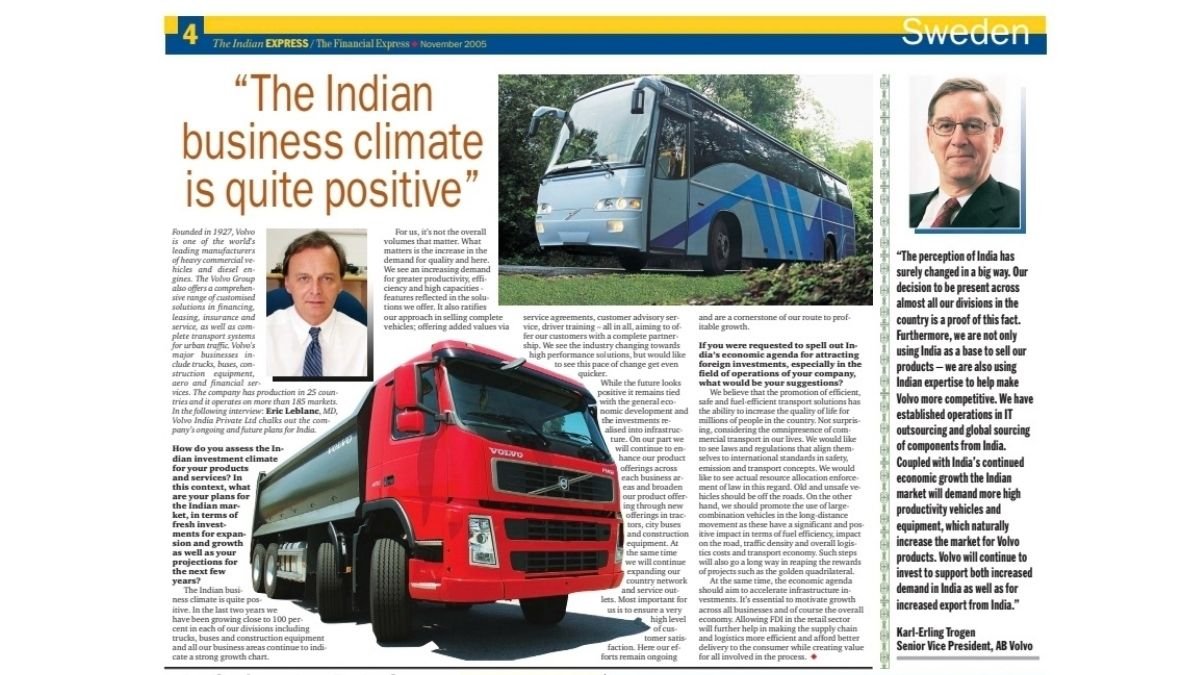 Further to this Karl-Erling Trogen, Senior Vice President, AB Volvo informed "The perception of India has surely changed in a big way. Our decision to be present across almost all our divisions in the country is a proof of this fact. Furthermore, we are not only using India as a base to sell our products – we are also using Indian expertise to help make Volvo more competitive."
Currently, Volvo Group in India has grown from a few to over 3500 employees and has over 400 sales & support points, also 150,000 drivers have been trained from their driving training centre. The Group has three factories near Bangalore – for Volvo Trucks, Volvo Buses, and Volvo Construction Equipment.
Kamal Bali, President & MD, Volvo Group, India, believes that the future is not just about competition but collaboration and partnership. Also, the demand for mobility will only grow; it may double or triple.