Aadhaar and voter IDs linkage bill passed amid Opposition demands for discussion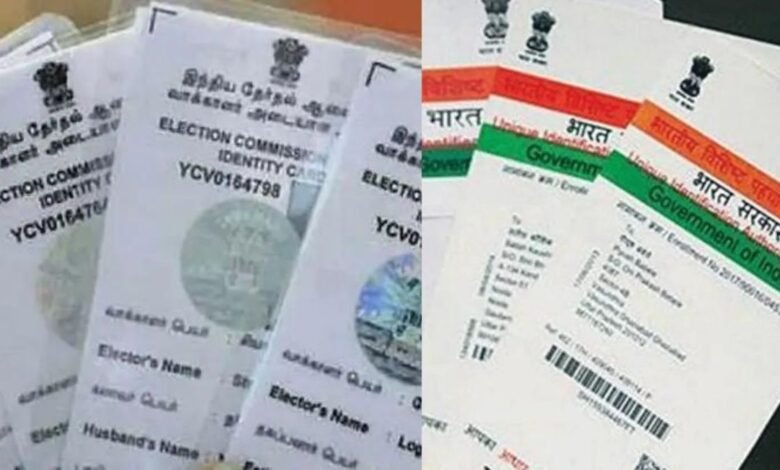 The Election Laws (Amendment) Bill 2021, to link Aadhaar card and voter ID, was passed in just 20 minutes amidst Opposition parties demanding for a detailed discussion
On Wednesday, the BJP-led Central government passed the Election Laws (Amendment) Bill, 2021 amid protests by Opposition parties via voice vote.
The details of the amendment
Here are a few things about the bill:
The Election Laws (Amendment) Bill, 2021, will allow the election registration officials to seek Aadhaar card number of people while registering as voters to establish their identity. It is a voluntary process.
The bill also allows the officers to ask for Aadhaar numbers from people who are registered as voters or their names are included in the electoral roll for authentication of entries. It will help identify whether the same name is registered in other constituencies or not.
The amendment will allow having four qualifying dates for people aged above 18 years to register as voters. Currently, January 1 of every year is the only qualifying date.
Now, 1st day of January, April, July and October in a calendar year will be the qualifying dates to register as voters.
The amendment to Section 20 of the RP Act, 1950 and Section 60 of the RP Act, 1951, will allow the elections to become gender-neutral for service voters. The word wife or husband is to be replaced by 'spouse'.
The controversy
The bill was passed amidst the Opposition parties protesting against the Lakhimpur Kheri incident.
YSR Congress and BJD, who don't align with the ruling party but have supported many of their bills in the past, expressed their scepticism about how the bill was passed.
The bill was passed within 20 minutes after Kiren Rijiju introduced it in the pre-lunch session.
The Opposition questioned the constitutionality of Linking the Aadhaar card to the voter ID as it is still not seen as proof of citizenship. It is the second push to link Aadhaar and voter ID cards.
Earlier in Telangana and Andhra Pradesh, attempts were made to link the Aadhaar card and voter ID. But around 55 lakh voters' names were missing due to the linkage. Almost 32 crore voter IDs and Aadhaar cards were linked.
Three years later, the state Opposition in Telangana has claimed that 30 lakh names were missing from the voters' roll. It is almost 10% of the total voter base. Similarly, around 20 lakh names were missing from the rolls in Andhra Pradesh.
Even if linking the Aadhaar card to voter ID is voluntary, most of the voters will obviously link them. But in a country like India, where there are no concrete data protection measures, the probability of data theft is always high.
In the 2019 state election, a private company had Aadhaar details of around 7.8 crore voters. This company was working for Telugu Desam Party. Most of these voters have linked their Aadhaar cards to voter IDs.