Slapped with sedition after Pak victory in T20 World Cup, Kashmir students' families seek their release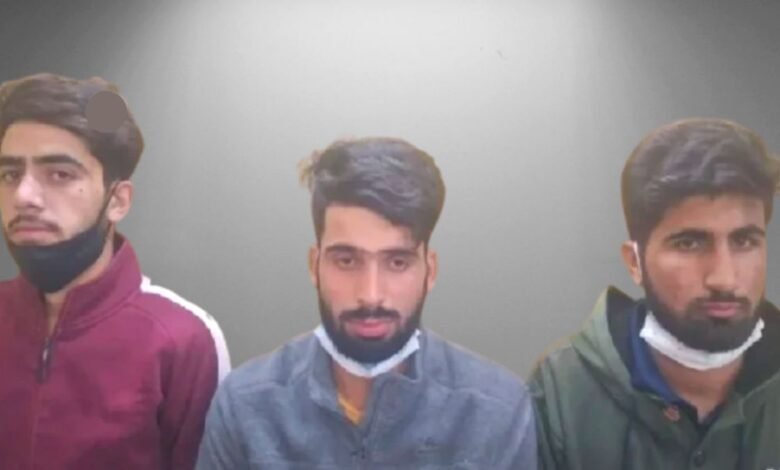 Three Kashmiri students from Agra's Raja Balwant Singh (RBS) Engineering Technical College were jailed for allegedly using social media to celebrate Pakistan's T20 World Cup triumph over India.
The families of Kashmiri engineering students, arrested on sedition charges in Uttar Pradesh's Agra on Wednesday, October 27 for allegedly celebrating Pakistan's T20 World Cup victory against India, have pleaded with the government to release their kin on humanitarian grounds.
Three Kashmiri students detained from RBS College Agra
Last Tuesday, three Kashmiri students identified as Arshad Yusuf, Inayat Altaf Sheikh (from Chadoora Budgam), and Shaukat Ahmed Ganie (from Bandipora) were suspended from Raja Balwant Singh (RBS) Engineering Technical College in Agra for allegedly using social media to celebrate Pakistan's victory over India in the T20 World Cup match on Sunday.
Soon after their suspension, local BJP workers reportedly pressurized the college authorities to act against the trio and also filed a police complaint against them. Later, the Uttar Pradesh Police detained the trio under sedition 124 (A).
Families protest, appeal for students' release
Meanwhile, the families of the three students appealed to the Jammu and Kashmir and Uttar Pradesh governments to release the trio on humanitarian grounds.
Family members of the detained student from Bandipora staged a protest in Srinagar's Press Enclave on Friday, seeking the release of their son. "We don't care who wins or loses a cricket match; all we care about is our children's future," the protesting family members said.
Showkat's father said he hoped to see his son become an engineer but it is difficult to believe how a sudden cricket match between the two nations affected his son's fate.
"I have no idea where he is imprisoned or where he attends college. I'm pleading with the governments of Uttar Pradesh and Jammu & Kashmir to let him free. He comes from a poor family, and we have no idea where to go to have him released," he pleased.
Similarly, Mohammad Altaf Sheikh, father of another student Inayat Sheikh, termed his son's detention as "unfortunate" and stated that his entire family hasn't eaten since they heard about the detention.
"If our children have made a mistake, we apologize," Sheikh stated in an interaction with the local media while begging the authorities to free his son. "If they aren't released, their entire careers will be ruined," he lamented.
Like these two families, Arshad Yusuf's family from Budgam claims that he does not have a father and that they are unsure what to do. "We have no idea where we're going to look for him," they stated.
The families have sought the Jammu and Kashmir administration's assistance in obtaining their son's release from the UP prison.
J-K Students' Association requests UP CM Yogi to drop the charges
Meanwhile, the J-K Students' Association has written to Uttar Pradesh Chief Minister Yogi Adityanath, requesting that the FIR against the student trio is dropped and that their suspension be lifted.
Nasir Khuehami, the Association's National Spokesperson, stated that the FIR is a very severe penalty that would spoil their lives and further isolate them.
"The charges will have major ramifications for the students' academic and future career," he warned.
Mehbooba Mufti says BJP's fake patriotism undermines the idea of India
Meanwhile, Mehbooba Mufti, the leader of the People's Democratic Party (PDP), stated in a tweet that the 'crackdown' on Kashmiri students both within J-K and outside is deplorable.
After two years of 'suppression', Mehbooba said, the situation in J-K should have served as a wake-up call for the Indian government, prompting a course reform.
She said the ruling BJP's fake patriotism undermines the concept of India while noting that it was imperative to release the detained students immediately.
The PDP leader also wrote Prime Minister Modi, to seek his intervention for securing their release.