India News
Bengal: Mamata-Durga idol will not be worshipped, idol is symbolic to theme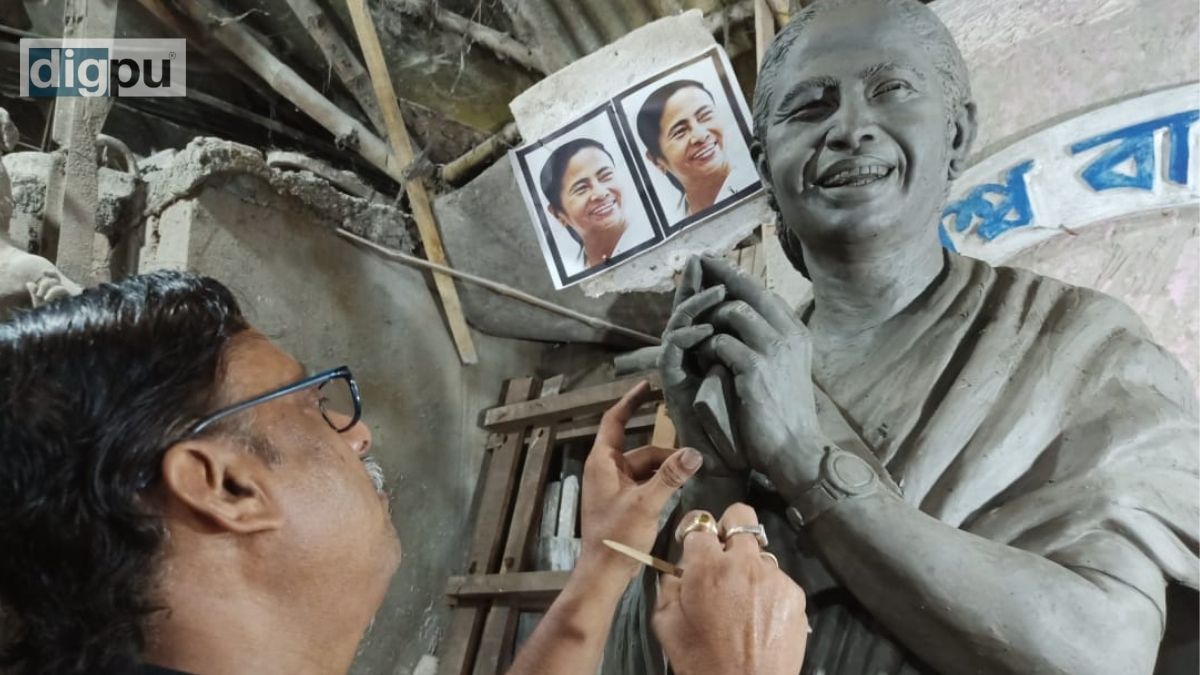 The controversy of elevating an individual to a God's stature is unnecessary as the Mamata-Durga idol is a piece of art and will not be worshipped.
Kolkata, September 6, 2021: A controversy erupted in Bengal after three Durga Puja committees decided to depict government schemes and Mamata Banerjee as their theme for 2021. Nazrul Park Unnayan Samity in Baguihati (North Kolkata) decided to portray Mamata as Durga with ten hands showing her most popular schemes.
But according to the artist, there shouldn't be any controversy as the idol will not be worshipped. Artist Minto Pal says, "The idol just accentuates the theme of the pandal."
The Mamata-Durga idol will not be worshipped
The deification of Mamata Banerjee shouldn't be controversial, Pal said. "This fiberglass idol will not be worship. The traditional clay Durga idol will only be worshipped. Mamata's representation of Durga is symbolic to the theme of the pandal." Nazrul Park Unnayan Samity has decided to pursue 'Lakhir Bhandar' as their theme. 'Lakhir Bhandar' is a popular finance-assistance scheme in which women heads of the house will get income support of 500-1000 rupees per month.
"She has done a lot for people, and therefore they can accept her as a motherly figure. There is no harm in people accepting her as a motherly figure. I have done nothing to harm any religious sentiment," he said while stressing that the idol will not be worshipped. This particular idol is a part of the theme and will showcase what she has done as CM of Bengal for the last 10 years.
Minto Pal further said that he would make idols of other politicians too. "If somebody comes to me and asks me to make idols of other politicians or anybody, I will make it. But I won't make any controversial idol," said the clay modeler who made the famous 'Durga with 1000 hands'.
Mamata-Durga idol
The five feet four inches idol will showcase Mamata as Devi Durga showering her pro-people schemes to people. It will have the 'Bishwa Bangla' symbol as a background. In the traditional Durga idol, the ten hands of the Devi have arms to end the Mahisashur. Instead, Mamata will hold her popular schemes like Khadya Sathi, Kanyashree, Swasthya Sathi, and seven more.
The artist is giving special attention to the minute details of the idol. While speaking to us, he was acutely focused on crafting an identical Mamata wristwatch. Mamata will wear her usual white saree with blue borders. "We will not show her famous slippers as this will be kept near the puja mandap," the artist Minto Pal added.
The kids who are benefitted from the schemes will represent Laxmi, Ganesh, Karthik, and Saraswati: the four children of Devi Durga. "Durga's four children will be replaced by small kids with school bags and girls going to school," Minto Pal said to Digpu News.
The Mamata-Durga idol will take almost a month to complete. "The idol will be sent to the pandal three or four days before Mahalaya," Mintu Pal said. Mahalaya is celebrated a week before Durga Puja to mark the beginning of the festivities.
Mamata-Durga idol Controversy
National in-charge of BJP's Information & Technology department Amit Malviya took to Twitter expressing his dissatisfaction. He said, "This deification of Mamata Banerjee, who has the blood of innocent Bengalis on her hand, following the gruesome post-poll violence in Bengal, is nauseating. This is an insult to goddess Durga. Mamata Banerjee must stop this. She is hurting the sensibilities of Hindus of Bengal."
Mamata Banerjee's Nandigram nemesis Suvendu Adhikari wrote, "When someone tries to elevate you to God' s stature only to please you & your silence indicates consent, it means your ego has reached a point where conscience can't hold it accountable."
The political controversy regarding the idol was an anticipated event. But time will tell whether this deters people to visit the pandal.