High-density orchards grow in number; Kashmiri apple farmers rue price drop
High-density orchards ready to harvest early, but lack of buyers from other states impacts sales
Srinagar: Fruit farmers in the Kashmir Valley, who had converted their traditional orchards into high-density orchards so as to increase yield, have found it tough to get a fair price for their produce this year. This, in turn, has been causing them considerable losses.
High density orchards have grown area-wise across the valley, and the Jammu and Kashmir government's Horticulture Department had come forward to assist the farmers as they went about pursuing high-density apple plantations.
Harvesting season peaks
As the high-density crop can be harvested quite early compared with the traditional ones, the orchard owners in the valley are having a busy time plucking fruits. Families, including children, can be seen working in the high-density orchards, plucking apples, grading them and transporting them with the help of pushcarts.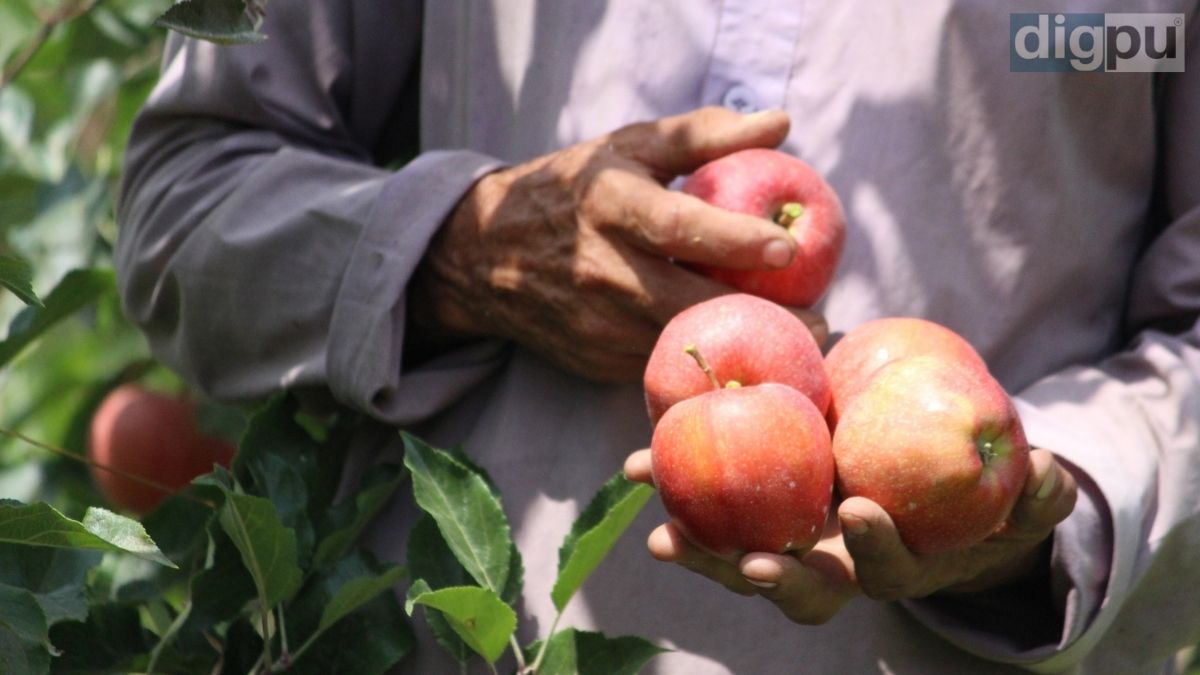 Lower prices a cause of concern
According to the orchard owners, they had got a reasonable price for their crop till last year and buyers had come from other states too to buy apples at good prices. However, not a single buyer from other states of the country has come this year, which has left the orchard owners worried.
Ghulam Rasool Sheikh, a resident of a hamlet in Pulwama district, who had converted his traditional orchard into a high-density farm, is happpy with the yield. However, he is wary about the fact that prices are plummeting this time around.
Ghulam Rasool told DigPu News that traders used to come from other states of the country to buy the fruits, and this had brought returns in the form of good prices. "However, due to non-arrival of traders this year, we are not getting good prices," he complained.
'Government's market intervention needed'
He stated that farmers spend a lot of money, and work extremely hard to plant and maintain high density orchards. But once the crop is ripe, the orchard owners are left to worry due the price drop. Though the Horticulture Department has taken several steps for the benefit of the orchard owners, none of these addressed the marketing aspect of the high-density produce. "As a result, our crops are being sold at a lower price, which is leading to losses worth lakhs," Rasool added.
Shabir Ahmad Shergojri, another high-density orchard owner, said the price of high-density crops was good until last year, and this had made the crop quite lucrative. However, this year, a reasonable price for the fruits is not on offer owing to absence of non-local traders.
Officials say prices to improve with non-local traders' arrival
According to Ajit Singh, Area Marketing Officer (AMO), Horticulture Department, at Pulwama "Orchard owners now need to pay more attention on grading, so that they get a good price for the crop they produce," he said. Adding that the department expects non-local traders to visit the orchards in the coming days to buy the crops, he said this surely will end the worries about lower prices prevalent in the market.
It is worth mentioning that a large population of Pulwama district is associated with the fruit industry. Pulwama was one of the earliest districts to embrace high-density apple cultvation, known locally as 'Italy' variety. These orchards had seen an influx of traders from other states of the country to buy the 'high-quality' apples last year. As the business seemed lucrative, many orchard owners had resorted to cut down their traditional orchards and convert them into high-density orchards.
Horticulture is a large sector in Jammu and Kashmir, accounting for around 8% of the GDP. Among horticultural crops, the Kashmiri apple is the most important.