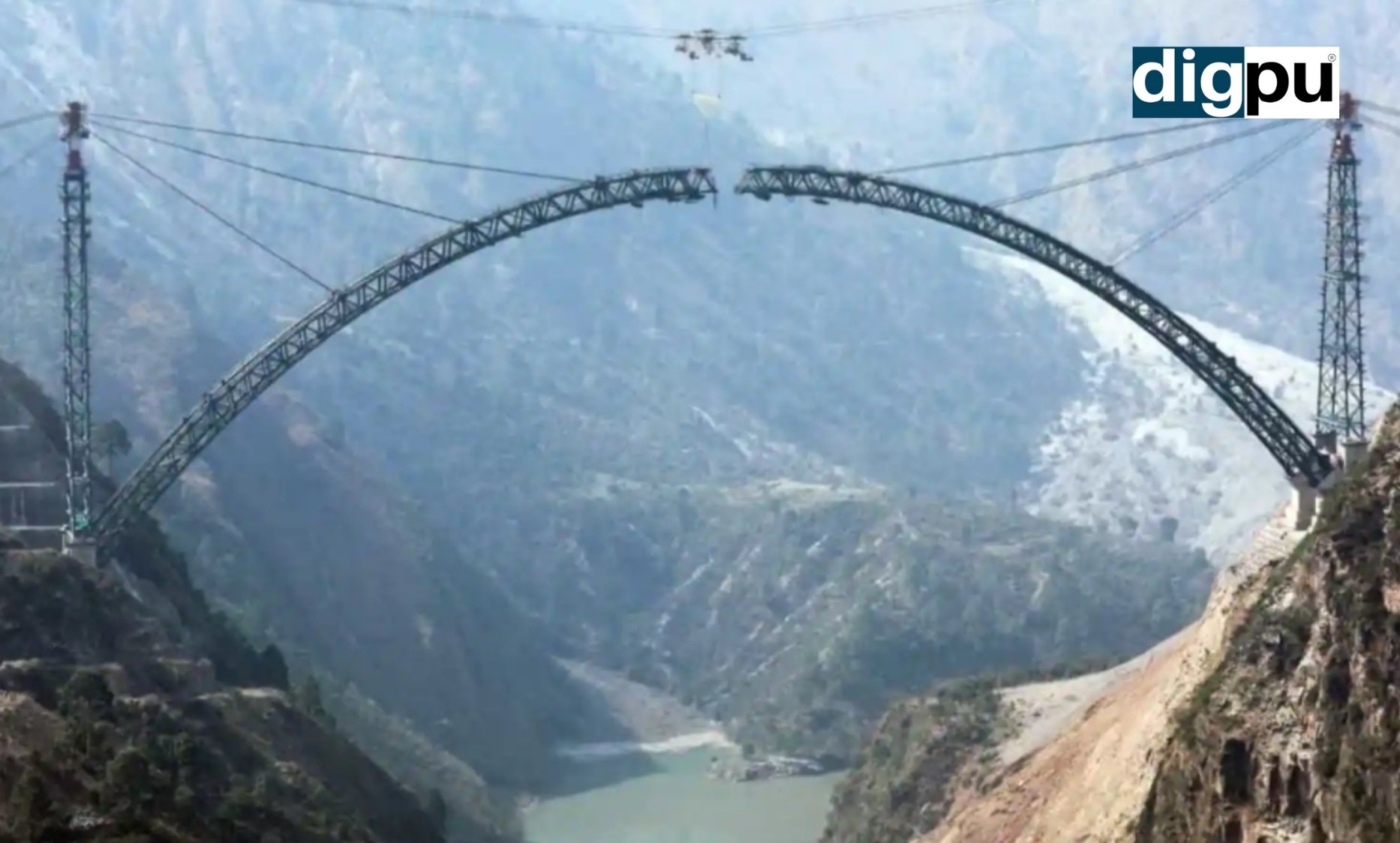 This accomplishment is a significant step towards completing the 111-kilometre twisting stretch between Katra and Banihal.
The Indian Railways announced on Monday that the famous Chenab Bridge, which is being built over the Chenab River in Jammu and Kashmir, is the world's tallest railway bridge and has completed its arch closure.
According to the officials of Indian Railways, the world's tallest railway bridge, which is part of the Udhampur-Srinagar-Baramulla rail link project (USBRL), has reached a significant construction milestone with the completion of the iconic Bridge's steel arch.
"This was one of the most challenging parts of the Chenab Bridge. This accomplishment is a significant step towards completing the 111-kilometer twisting stretch between Katra and Banihal," a statement, issued in this connection, reads.
"It was arguably the greatest civil-engineering obstacle faced by any railway project in India in recent years," the statement claimed.
The 5.6-metre final piece of metal was mounted at the highest point of the bridge, connecting the two arms of the arch that actually extend into each other from both riverbanks.
"This completes the arch's outline, which would then loom above the treacherous Chenab, which flows 359 metres below. Removal of the stay cables, filling of the concrete in the arch rib, erection of the steel trestle, launching of the viaduct, and track laying work will be undertaken after the arch work is completed," the officials maintain.
Steel boxes make up Arch. To increase stability, the Arch's boxes would be filled with concrete. Arch has a gross weight of 10,619 MT. For the first time on Indian Railways, arch members were erected using overhead cable cranes.
According to the statement, the most advanced 'Tekla' programme was used for structural detailing, and structural steel is ideal for temperatures ranging from -10°C to 40°C.
The completion of the historic Arch work was also seen by Piyush Goyal, Minister of Railways, Commerce and Industry, Consumer Affairs, Food and Public Distribution, Shri Suneet Sharma, CEO-cum-Chairman, Railway Board, Ashutosh Gangal, and General Manager Northern Railway through video conferencing.
According to officials, the famous Arch Bridge on the Chenab River is being built as part of the USBRL project to link the Kashmir valley to the rest of the country.
"This bridge is 1315 metres long and 359 metres above the riverbed level, making it the world's tallest railway bridge. It will stand 35 metres taller than the Eiffel Tower in Paris, France," the officials claim.
According to details given out, the bridge was built with 28,660 MT of steel, 10 lakh cubic metres of earthwork, 66,000 cubic metres of concrete, and 26 kilometres of motorable roads.