Female Priestesses were never denied to perform puja rituals in Hinduism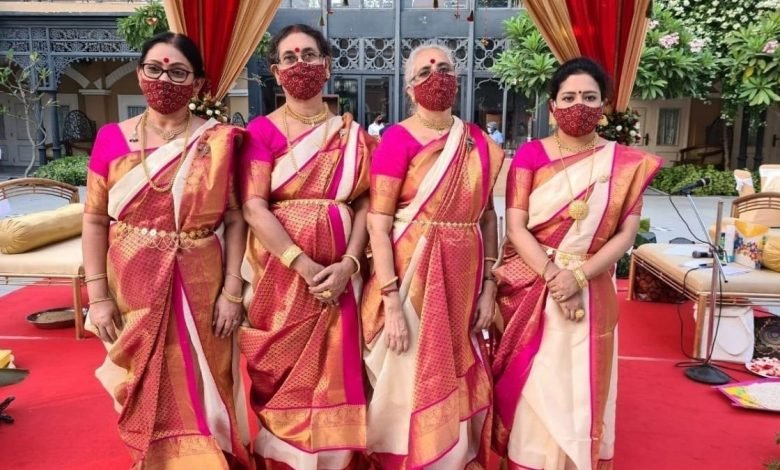 As female priestesses break into male bastion of priests, the story delves deeper into the Hindu religious texts to understand the arguments against women priests
Kolkata: For the first time in history, the priestess will hold the reigns of performing Durga Puja rituals. A famous south Kolkata puja committee, 66 Pally Club, took this initiative after the sudden death of their usual priest last year.
Four female priestesses from Subhamastu in Kolkata will perform the rituals of Durga Puja. These priestesses are: Nandini Bhowmik, Ruma Roy, Seymanti Banerjee, and Paulomi Chakraborty.
Apart from female priestesses, a female artist will craft the idol for puja. The puja will also host women dhakis (a musical instrument played during the puja), and community women will help in puja preparations.
A lot is written about the initiative across media and its acceptance. But as said, there are always two sides to the same coin. Staunch Brahmin priests have blamed 'Kolijug' or the time of destruction for the initiative. Interestingly, if we delve deeper into religious texts, Hinduism has never stopped women from becoming priestesses or chanting Vedic hymns.
Female Priestess and prime points of contentions
Over the years, except for sentimental praise of the female priesthood in media, it has faced several conjectures in the name of religion and religious text. One of these was menstruation. Religion views this biological problem as an excuse to bid women from doing puja rituals. According to the Hindu priests, women cannot do puja as they are impure. "Women cannot do puja in those days. As per the Shastra, they are impure," Somesh Choudhury said.
But no religious scriptures echos the curtsy of not allowing women into temples or do puja during menstruation. Notably, Hindu religious scriptures are not limited to 'Purohit Shastra', Gita and Ramayana and include Vedas and Upanishads. Around centuries ago, upper-class women wrote Vedic scriptures. Ghosha, Lopamudra, Sulabha Maitreyi, Gargi, and 27 other female seers wrote hymns and verses across the four Vedas of Hinduism.
Understandably, reading and chanting Vedic phrases were limited to the male member of the Brahmin family as people never questioned the practices, nor they were aware of their rights. But Ramayana and Mahabharata were available to all. Any of them never mentioned any restrictions against women doing puja. The staunch gatekeeper has a universal argument here, "It is the rule of nature that men cannot give birth. If men are okay with this, then women should also be fine with certain restrictions for the sake of Dharma," Somesh Ji added.
As the argument proceeds, the staunch believers say that women were barred from entering the kitchen and puja room in history and therefore there must be some reasons for it. But the explanation also has a parallel explanation. Women were excused from household chores and were restricted to enter the kitchen and puja room so that they could take some rest during their menstruation cycle.
Bengalis believe a lot in Sri Ramkrishna Paramhansa. His wife, Devi Sarada, used to cook and do puja during her period and with Sri Ramkrishna's permission. According to the writer, the difference is not between men and women but between mortals and gods. Everybody uplifted to a stature similar to God can do anything. The rules followed by mortals do not bind them.
In Tamil Nadu, Arulmigu Adhiparasakthi Siddhar Peetam in Melmaruvathur appoints women priestesses to perform puja in the sanctum. Notably, the temple hires people from all communities and creeds to perform the puja rituals. The Goddess Para Shakti temple in Melmaruvathur allows menstruating women to perform puja rituals. There are no male purohits.
In the northeast and east India, the Ambubachi festival is a popular celebration. Legend says that people's wishes come true during this period as the temple observes this festival to commemorate the menstrual cycle of Goddess Kamakhaya.
Female Priestess and sacred thread
Most Brahmins believe their ability to do puja is due to their 'Upanayana' or sacred thread. "Can women wear 'janeyu'? You need to wear sacred thread to perform the rituals," Pandit Choudhury said. But in Mahabharata, Anussana Parva states that 'Neither birth, ceremonies, learning, nor progeny is qualifications for brahminical status. Only brahminical conduct is the basis for brahminical status.'
Elsewhere, there is no concrete evidence that proves sacred thread is essential to perform puja. Most women offer puja to goddesses and gods regularly at their homes. They don't require 'janeyu'.
The sacred thread ideology is theoretically criticized as Brahminical establishments. According to the Elephanta Cave sculpture titled Gangavatarana, left of Mahesamurti, women did wear janeyu on their necks.
As history has it, Maitreyi and Gargi had sacred threads: Janeyu & Yagnopaveet. Later Manu, the lawmaker of 'Sanatana Dharma' absolved women from wearing 'Janeyu'. But the rules were changed after Manu Smriti. According to the modified rules, upper-class men wore two threads after marriage on behalf of their wives. The wives can share all the merits of meditation and virtues equally. As per this argument, all four female priestesses are married. And two of them are married to Brahmins: Seymanti Banerjee and Poulami Chakraborty.
Other instances of religious contradiction with female priestess
There are few others objections to the female priesthood and idol worship. "Priests who have Tantra shastra can do Kali Puja. Durga Puja is 'Ashtam Yog'. Women can be assistants to the male purohit but cannot do them," Somesh Ji said. A middle-class woman in her late 50s gave a befitting reply to this. "Anybody who knows the mantra and how to pronounce them correctly can do the puja. The most important thing is Bhakti. If you are devoted to God, you can do pujas also," Rupa added.
Somesh Choudhury also said that according to Hinduism, women can't tie a thread to a man during the ritual. "During any puja, pujari has to tie a thread around the guardian of the house wrist. According to Hinduism, women cannot tie that thread," he said.
These words were true in the historical context. Now even women own property and can share the rights of the ownership. If a woman can share the benefits of meditation by the virtue of marriage, they can also share the ownership rights of their husband as per the religion.
Having said that, the female priestess can tie the thread around the woman's wrist, who can then tie the thread to her husband. Similarly, the female priestess can take the 'Dakshina' or payment or gifts from the female head of the house.
Subhamastu and unique puja style
The four female priestesses of Subhamastu have a unique and inclusive approach to the rituals and hymns. According to them, everybody should understand them to evoke greater devotions. "Subhamastu gives a unique treatment to both mantras and costumes. This time it will be no different," Paulami said during Khuti Pujo in 66 Pally club.
The priestesses recite the Sanskrit mantra in Bengali so that people can understand their meaning. This is followed by a relevant song. The synchronizing voice of the priestess evokes devotion and serenity. Nandini Bhowmik, one of the priestesses says, "I was grown up differently. My parents never associated priesthood with gender and have inspired me to take this profession. The synchronizing requires practice, and we do a lot of practice."
This step towards women's empowerment will open future doors for women. "This effort of ours will open priesthood doors for women in the future," Praduymna Mukherjee, member of the official 66 Pally Puja committee said.