Amid pandemic, 'ideal school' wish comes true for students in Pulwama village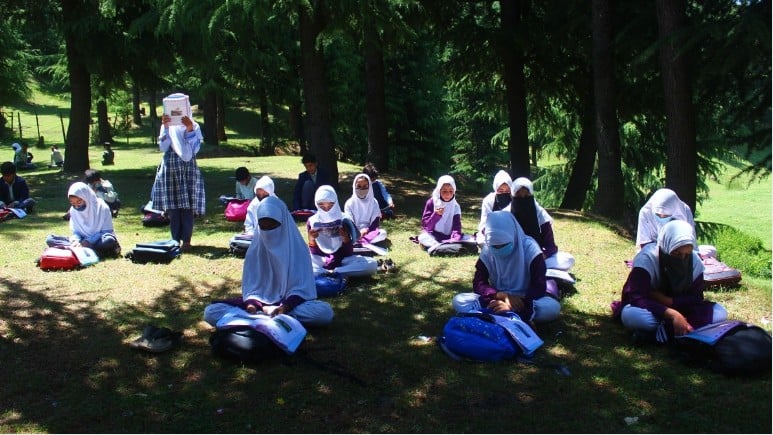 PULWAMA (J&K): The pandemic of COVID-19 has affected almost all the sectors across countries in general and the Valley of Kashmir in particular, but for the students of a remote village in southern Kashmir, the latest lockdown has been a blessing of sorts to facilitate the realization of their 'ideal school' dream.
With their faces covered and their hands being frequently sanitized, the little children are happy for attending their new 'school' amid heart-warming lush green surroundings in Yarwan Keller area of Pulwama district.
On the other hand, the local teachers, who are proving themselves to be the pillars of the student's future, have taken this initiative seriously with the clear aim to avoid any further loss to the students as far as their studies are concerned.
Children sitting in the shade of trees with their classmates and observing social distancing at the same time while enjoying the beauty of nature away from the hustle-and-bustle of a typical school, makes up an ideal school amid the pandemic of novel coronavirus and the consequent lockdown.
"We started this school because we had no other option. This area is very remote with no internet connectivity so the provision of online classes couldn't work here. Besides, the people are poor and can't afford smartphones for their children," Khursheed Ahmad Bhat, a government school teacher who has taken the task of voluntary teaching, said.
Also Read: Amid lockdown, nomads continue with their normal life in Valley
The teachers are taking every care that all the necessary precautions are being followed by both the school children and the staff, including teachers.
Another teacher, who didn't want to be named, said, "As we had to start this school anyway, we are making sure that all the necessary protocols and health advisories are being followed. We want this makeshift school to run smoothly without any hindrance or controversy."
Meanwhile, the students while expressing happiness said that they are thankful to the teachers for the initiative.
Also Read: Internet Strip — Connecting people amid gags in Pulwama
"We are very happy about this new school. We enjoy studying among the woods with such beautiful surroundings. I wish all our schooling could be like this," an elated girl student, Safoora Jan said.
Mustaqeem, another student, also revealed his feelings. He said, "I am happy to be among my friends after a long time. At this place, it is not less than an 'ideal school' that we all dream about. This is now our favourite school."
There are things that that the virus-induced lockdown impacted quite badly, but the children feel lucky for the blessing in disguise. And, people are all praise for their teachers who are not less than any heroes. They truly exemplify that there is always a way out, be it a worst of crises, if you have the will to secure a favourable result.
**Dil-Paziir (Urdu; meaning 'heart-pleasing') is a special edition positive news series brought to you by Digpu from Kashmir. Our local journalists have successfully shared many inspirational stories from the valley – from the invention of E-Charkha, automatic ventilator in Kashmir, stories of brotherhood through to the first-ever cricket tourney for Blind sportsmen, all the stories make us awe-struck.