With rising temperatures, rivers dry up in Kashmir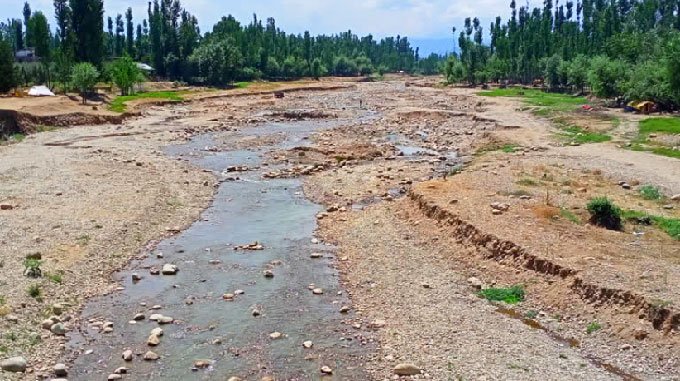 Due to lack of rain and a subsequent decrease in the river and canal water level in Pulwama, the drinking water and irrigation schemes have been severely affected.
SRINAGAR (J&K) —
Orchard owners and farmers in Kashmir are worried about the dry weather as they are not getting the requisite water for their agricultural land. The Kashmir valley used to receive rains whenever the temperature rose during Summers but this year, the opposite is happening in Kashmir.
Given the climate change, the temperature is rising significantly in the Summer while there has been no rain for the last two months, except a slight drizzle today, which has led to a drought-like situation in the Valley. Due to lack of rainfall for the last few months, the water level in most of the canals in Kashmir valley has dropped significantly.
The dry season has already affected the Horticulture and Agriculture sectors in various areas of the valley, including south Kashmir's Pulwama district. Due to lack of rain amid the rise in temperature, the water level in the rivers and canals in Pulwama district has also dropped significantly. As a result, drinking water and irrigation schemes have been severely affected.
The ongoing dry weather in the Kashmir valley has become a source of concern for farmers and orchard owners.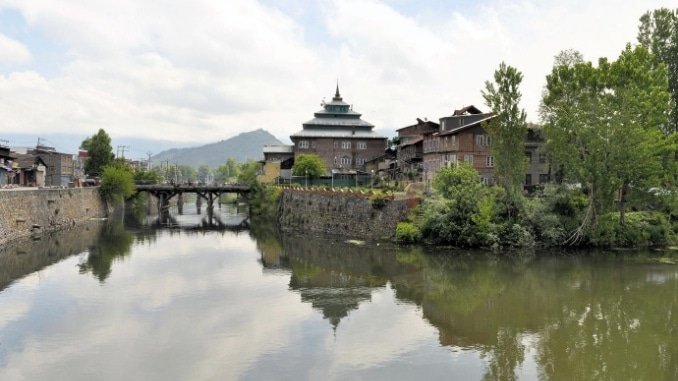 While speaking to Digpu, a local farmer in Pulwama's Bandzoo village said, "Due to lack of rains, all kinds of crops and fruits have been destroyed. We are hoping for the rainfall in order to lessen our miseries."
"Post abrogation of Article 370 and the consequent lockdown, we were again locked in homes due to Coronavirus-induced lockdown. Now, the dry weather coupled with heatwave has broken the back of our economy," Mohammad Ayoub, a private school teacher, said.
In the summer season, the water level in most of the canals of Kashmir used to rise and flow very fast. But this time, the water level in the streams has dropped significantly.
In Pulwama district, besides the famous Jhelum and Ranbi Ara, Romshi Nala flows here which is an important source of irrigation for the agricultural lands in its vicinity. But the lack of rain for more than two months has significantly reduced the water level in the Jhelum river and other natural canals, leading to a drought.
Most climate change experts agree that the greenhouse gases which trap heat and prevent it from leaving the Earth's atmosphere are mostly responsible for the temperature spike. Even with a worldwide emphasis on reduced greenhouse emissions, temperatures continue to climb.
Experts also believe that changes in weather conditions, especially in Kashmir, are due to increasing environmental pollution and deforestation.
This is an exclusive story and is not for reproduction.