Headingley Test: Anderson can't hide excitement as England bowls out India for 78 runs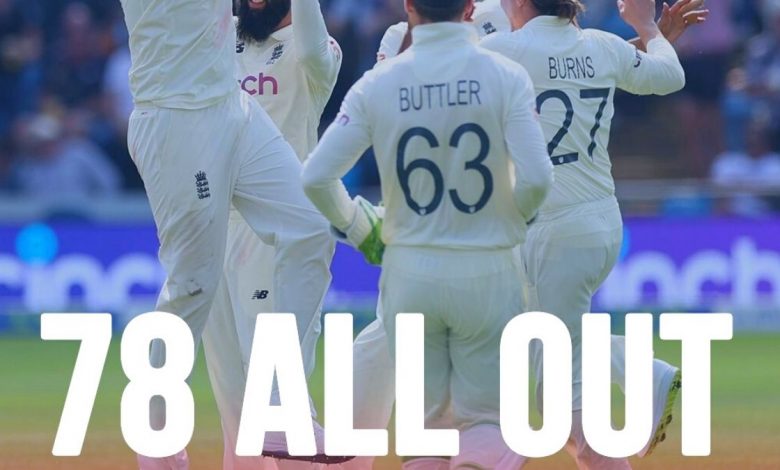 On the first day of the third Test, England's bowlers put in a terrific effort, dismissing India for 78 runs in the first two sessions.
NEW DELHI — Although England's bowlers overpowered India's batsmen on Wednesday in the ongoing third Test, pacer James Anderson conceded that such performances are uncommon in a match.
The English bowlers put in a fantastic performance on the first day of the third Test, bowling India out for 78 runs in the first two sessions.
James Anderson is ecstatic
England demonstrated exactly what it wanted to do with both the ball and the bat, Anderson said this during a virtual press conference following the conclusion of the day's play at Headingley.
Because these days don't come around very often, as per Anderson. He added that England must be grateful when they perform like that.
In the Boxing Day Test in 2010, England had dismissed Australia for 98 runs.
'Would have bowled first, had we won the toss'
Anderson stated that he would prefer to bowl in that match, but that if Joe Root had won the toss on Wednesday, he would want England to bat. As per him, he was attempting to persuade Joe to bat if he won the toss.
The England paceman, however, stated that he had no idea if the hosts had bowled well or if the track was more favourable to the bowlers.
England batmen kept their calm
The Indian bowlers were unable to obtain the same level of purchase from the pitch as their English counterparts, failing to land the ball in the full lengths that had previously hampered their batsmen.
England's openers, Haseeb Hameed and Rory Burns, ensured the team headed into tea unbeaten, scoring 21 runs in the process.
In the last session, the two batted calmly, barely allowing the Indian pacers to get a foothold. They took advantage of the bad deliveries while leaving the good ones alone to keep the scoreboard ticking.
Rory Burns and Haseeb Hameed ensured England got the honours on the opening day of the ongoing third Test after bundling out India for 78 runs.
England's total stands at 120/0 at stumps, with the hosts leading by 42 runs. Burns (52*) and Hameed (60*) are both unbeaten for the Three Lions.
Both England batters survived the final session, and the hosts finished the first day with all ten wickets intact, increasing their lead to 42.