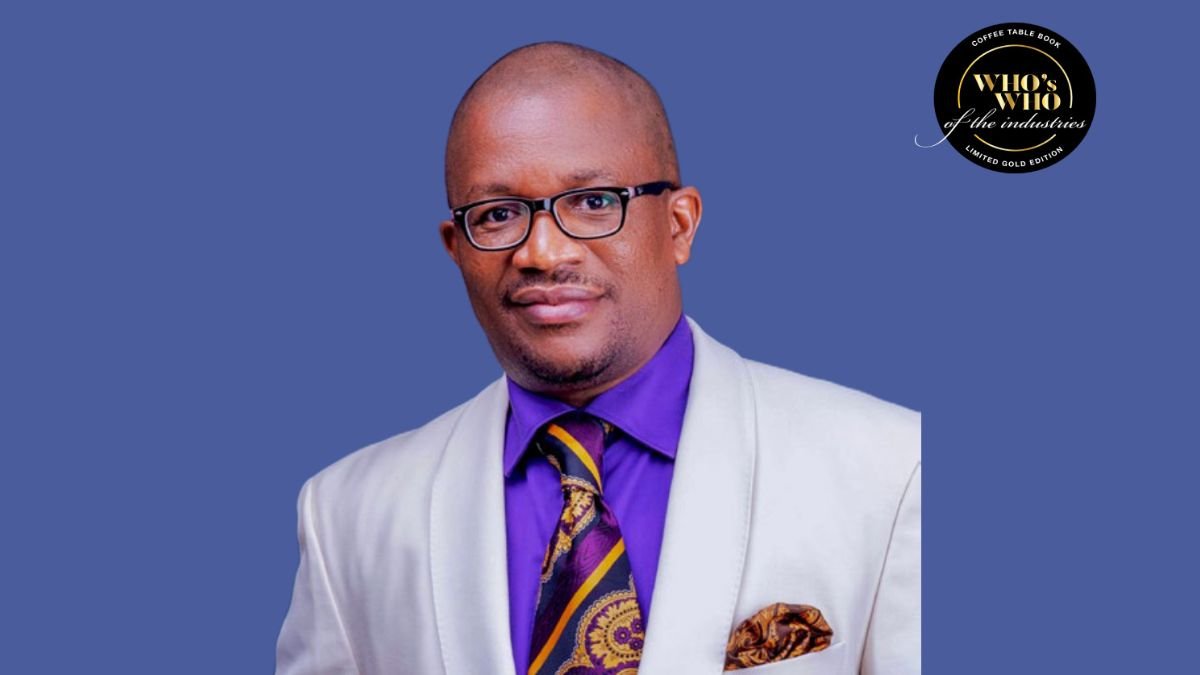 Unified Brainz is resolute in presenting and celebrating the exemplary careers of some of the most stalwart personalities whose fortitude, assiduousness and willpower have made them claim the highest level of glory. This year again, we are proud to present one more limited edition of the unique dark mode Coffee Table Book, "Who's Who of The Industry", which is marked in the World Book of Records, London, where we have handpicked the success stories of individuals who have made an inedible mark in their respective industries and emerged as victorious leaders.
Dr. Emmanuel Lamptey is the founding President and CEO of Envaserv Research Consult (ERC) Ltd., a leading multidisciplinary ISO-certified ESG consultancy and ISO-accredited environmental laboratory testing company in Ghana, Africa. Dr. Lamptey, an experienced environmental scientist and executive leader, has dedicated the past 20 years to academia, environmental management, business development, and local governance, creating a unique blend of academic, business, and political expertise.
Dr. Lamptey holds a Ph.D. and MPhil in Oceanography from the University of Ghana, Legon, and a bachelor's degree in Zoology. He is also a Certified Environmental Consultant. With his strong educational background and extensive experience, Dr. Lamptey has been instrumental in transforming ERC into a formidable player in ESG consultancy and laboratory testing, both locally and on the international stage.
At the core of ERC's success is Dr. Lamptey's visionary business strategy. The company was officially established in September 2011, driven by the goal of becoming a comprehensive provider of environmental and social governance (ESG) services to industries such as oil & gas, mining, agriculture, manufacturing, and transportation. ESG enhances corporate governance and meets customer expectations for transparency and ethical partnership. Dr. Lamptey's passion for delivering value to clients, investing in young talent, and achieving impactful results has garnered significant international and local recognition.
Envaserv stands out by adhering to its unique approach to doing business, guided by the mission to know clients, understand their needs, and cost-effectively meet those needs. The company's fundamental principles of professionalism, quality and ethical standards, customer satisfaction, and customized services have earned them a reputation for excellence.
The reliability and accuracy of Envaserv's findings, results, and reports are of utmost importance. The company boasts a certified Quality Management System integrated into its operational procedures and an accredited laboratory testing scope. Envaserv utilizes wide-ranging environmental assessments, planning applications, risk evaluations, specialized training, and other multidisciplinary scopes to consistently exceed client expectations in project execution.
While Dr. Lamptey faces challenges in his professional and personal life, he effectively manages them through proper planning and maintaining clear boundaries between the two. Ethical principles and purposefulness guide his actions in both spheres, helping him avoid conflicts and maintain balance. Although there are instances where alignment or overlap between his personal and professional lives occurs, he embraces them when they bring mutual benefits.
Dr. Lamptey's strong appetite for business stems from his desire to provide corporate solutions, particularly in the environmental and social services sector. He finds satisfaction in overcoming environmental and social challenges and surpassing client expectations. His business appetite remains buoyant as he continuously seeks innovative models and approaches to dismantle insurmountable environmental and social problems.
During the COVID-19 pandemic, Envaserv experienced minimal adverse impacts on its operations due to the diversified nature of its business and service portfolio. While there were slight disruptions in accessing client premises during lockdowns, the company quickly adapted by implementing remote work and staff shift systems. Delays in international supplies were managed effectively, and the company even made new hires during the pandemic. Envaserv's resilience and diversified approach ensured its operations remained relatively unaffected.
Envaserv's success is underpinned by its adherence to business principles and strengths. The company's commitment to professionalism, quality, ethical standards, client satisfaction, and customized services sets it apart in the industry. Through proactive engagement with clients, Envaserv ensures their services remain relevant, tailored, and optimized for the market. To know more about Dr. Emmanuel, check https://whoswho.world/ or to nominate email, [email protected]
[Partner Content]