Opinion
Modi mode of double standards: Letting rapists walk free while exhorting citizens to uphold women's dignity?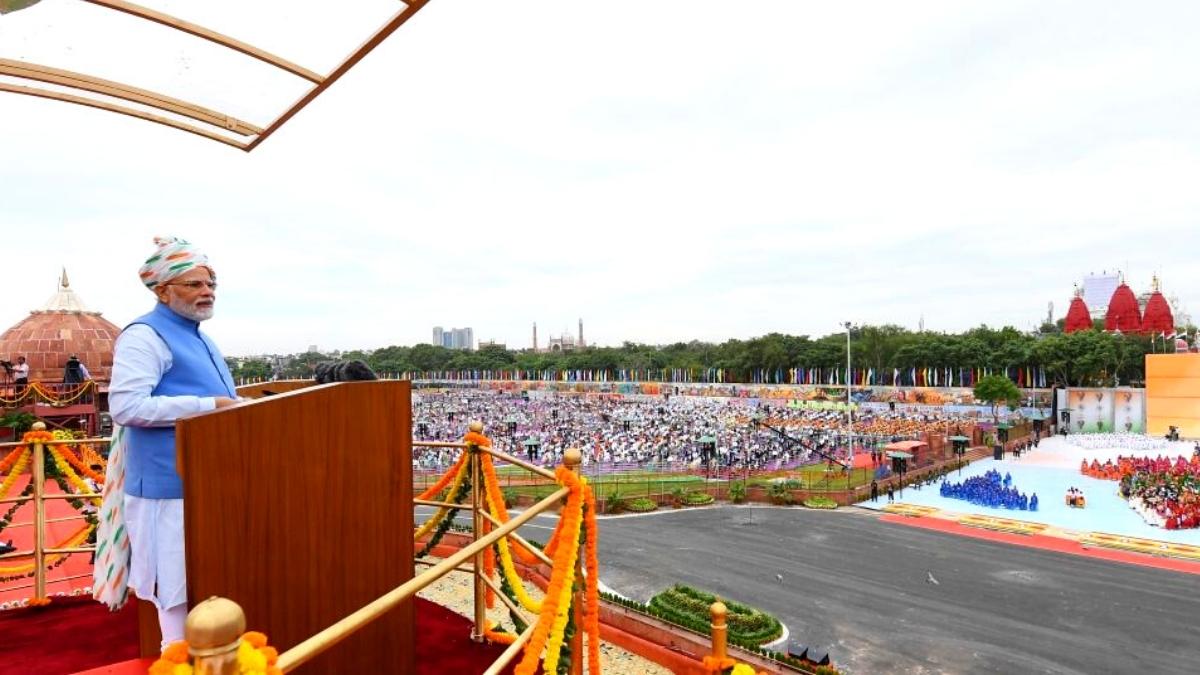 It has become a habit for the PM and his cabinet colleagues to perfect their speeches and style by using words of wisdom and advise all the time they walk up to the microphone
What would you call a Prime Minister who speaks one thing, and does right the opposite? I know this reads like a question that would make you angry, but then you have all the right to be angry. I am flummoxed when I realise that the August 15thIndependence Day speech by PM Narendra Modi is rife with double standards. Look deeper into it, and you will also agree that double standards are what it is all about.
As he took the podium at the ramparts of the historic Red Fort to celebrate the 76thIndependence Day of India, PM Modi was all praise for Nari Shakti. He went about calling for more respect to women, and he called upon the nation to assert themselves against anything that lowers the dignity of women.
Even as he finished his speech, rapists who were behind bars were set free. These rapists, convicted in the Bilkis Bano 2002 riots case, were allowed to walk on the occasion of the Independence Day on Monday. And, as they came out of the prison they were even greeted with sweets, and garlands by groups linked to the ruling BJP!
Double standards and Modi's I-Day speech
It may be recalled that, back on January 21, 2018, a special Central Bureau of Investigation (CBI) court in Mumbai had handed life imprisonment to eleven accused on charges of gang rape and murder of seven members of Bilkis Bano's family during the 2002 Gujarat riots. Their conviction was later upheld by the Bombay High Court. These men, who had committed heinous crimes against women, have been handed freedom from punishment. The point to note is that they now walk free even after rape charges were proved against them and convicted during the Azadi ka Amrit Kaal extravaganza, and that too in Modi's own state of Gujarat.
And while the plan for setting them free was being rolled out, the Prime Minister was at his oratorical best exhorting the country to respect women and do nothing that lowers women's dignity. Wah, Pradhanmantri ji Wah!
It has become a habit for the PM and his cabinet colleagues to perfect their speeches and style by using words of wisdom and advise all the time they walk up to the microphone. For Narendra Modi, the art of arraying words that evoke much applause is style and fashion. And more applause he expects, whenever he adds words that seem like he does actually care.
But does he? Convicted rapists walking free as India celebrates its freedom doesn't seem like he actually cares for women. One might argue that this happened elsewhere and the Prime Minister of the country may not have known or thought about that. But then, that is a hollow argument, as he happens to be the Prime Minister of the country, indeed. Allowing an administration under his rule to celebrate 75 years of freedom by setting free a bunch of rapists doesn't augur well with Modi's praise and call for Nari Shakti.
Take a minute to think about what goes through the mind of Bilkis Bano, who had been made to suffer by the rapists who now walk free. It has been reported that Bano has stated that the release of the 11 rapists has "shaken" her faith in justice. She feels she has been betrayed, and the whole episode has deeply hurt and made her numb. When she started trusting the judiciary and the system of the land, she has been pushed to much more suffering. "My sorrow and my wavering faith is not for myself alone but for every woman who is struggling for justice in courts," a report quoted her saying.
Saying one thing, doing the opposite
The question is, why should this happen? Why should a Prime Minister exhort his people to stand up to protect the dignity of women in his mass address, resort to allow the release of rapists? Does this go well with the trust placed by the women of India when he was elected PM? The answers would of course point fingers at the "I Don't Care" attitude Narendra Modi seems to be emanating even as he goes on talking of Nari Shakti and rolling out policies that seem to care for the women of the land.
Activists have already called his bluff with regard to the women-centric policies, alleging that they are all just hollow words from the PM and his government. Be it Beti Padhao Beti Bachao, or women's safety measures – all these policies haven't made it to their goals set by the government. Further still, burning issues such as auction of Muslim women online, Yati Narsinhanand's call for the rape of Muslim women, and more such heinous crimes are yet to see concrete action under a PM who speaks about Nari Shakti.
At least while addressing the whole of India on Independence Day, the Prime Minister is expected to stay away from being superficial. By allowing rape convicts walk free, the whole notion of standing up to safeguard the dignity of women goes for a toss. Hope somebody tells the PM that he is wrong. Miserably wrong, in fact.