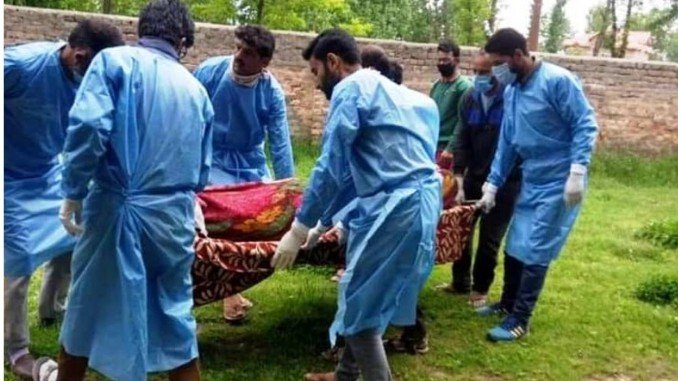 SRINAGAR: While setting another example of communal harmony, Muslims in central Kashmir's Ganderbal district on Thursday went all out to help in the cremation of a Sikh carpenter, hailing from Punjab.
The non-local, identified as Rakesh Singh, from Punjab died at his rented accommodation in Wakura village of Ganderbal district in Kashmir.
As the locals found it difficult to send the body to the deceased's native village amid the Coronavirus-induced lockdown, they decided to cremate his body as per Jatt rites.
As per COVID-19 norms, doctors examined the body before cremation while those who participated in his last rites wore proper protective gears.
Touched by the gesture of local Muslims, the slain Sikh's brother said, "We have been working in Kashmir from the past decade. I am overwhelmed by the approach of locals. They are great human beings. People across India should learn the principles of humanity from people of Kashmir."
The local people also consoled the grief-stricken brother of the deceased and assured to provide all possible help. The local Muslims lifted the bier and even chanted religious hymns during the funeral procession. It is pertinent to mention here that Kashmiri Muslims often participate in the last rites of people from religious minorities including those Pandits who decided to stay in the Valley when their relatives decided to migrate to Jammu and other parts of the country in 1990 to get out of the harm's way in the midst of a cataclysmic upheaval after armed militancy broke out in the Himalayan region.
—
**Dil-Paziir (Urdu; meaning 'heart-pleasing') is a special edition positive news series brought to you by Digpu, starting from Kashmir. Our local journalists have successfully shared many inspirational stories from the valley – from the invention of E-Charkha, automatic ventilator in Kashmir, stories of brotherhood through to the first-ever cricket tourney for Blind sportsmen, all the stories make us awe-struck.