The magazine was unveiled by Dr GD Singh, Founder & President of Unified Brainz Group & Editor in Chief of Passion Vista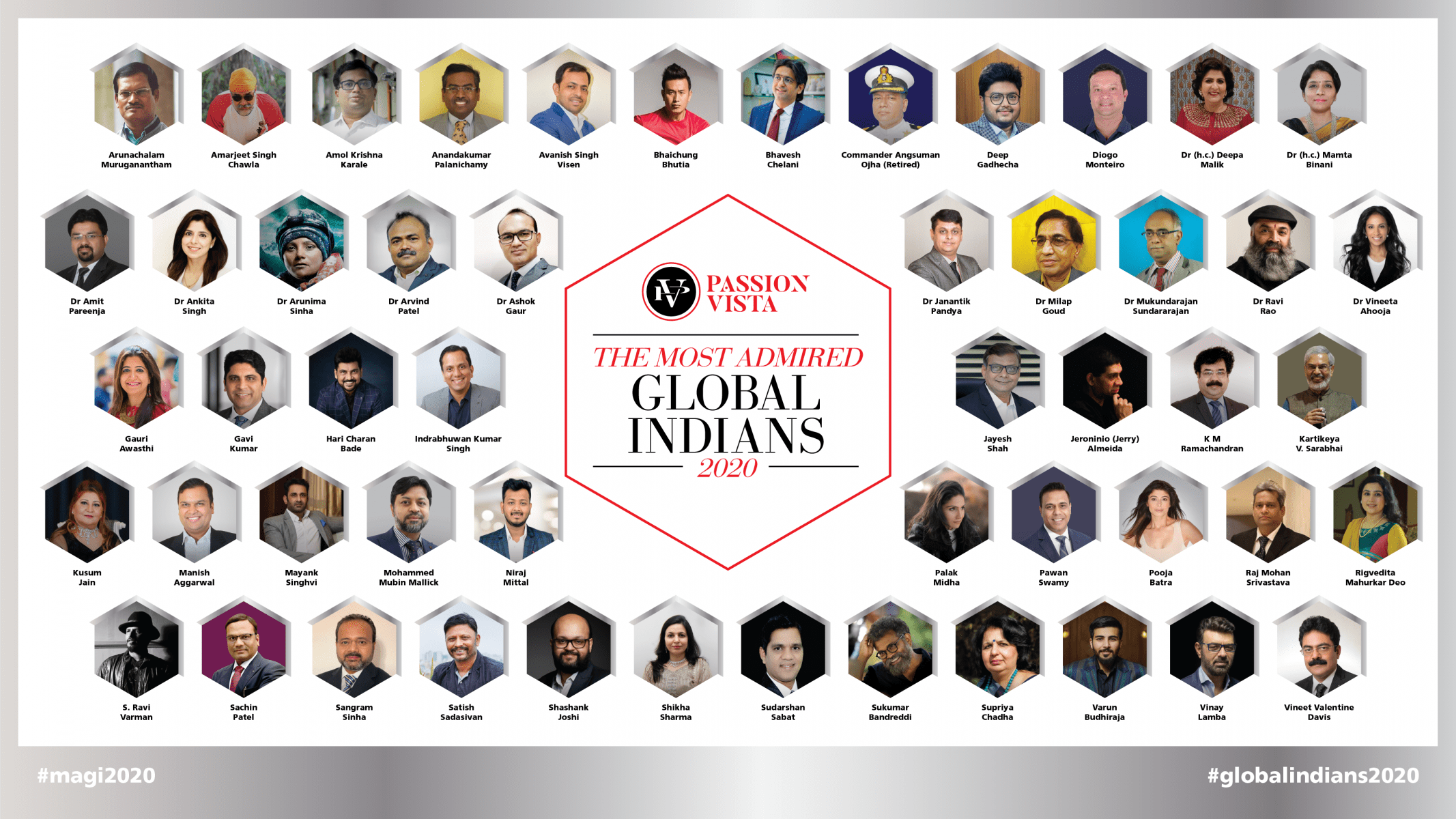 Passion Vista, the internationally famed, luxury, lifestyle & business magazine, featuring the trends and threads which weave the quintessential fabric of the 'Crème Life', published by Unified Brainz Media & Publication House is in a practice of recognizing the fine efforts of such eminent people and has been publishing their untold stories in its regular and special issues from time to time. On the occasion of 2nd anniversary, in a bid to make a memorable witness, Passion Vista came up with the 2nd season of featured stories of these illustrious global Indians who have not only made their own country proud but also the whole world, giving birth to this special collector's edition, 'The Most Admired Global Indians 2020".
The Unveiling of Passion Vista's Special Collector's Edition Magazine "THE MOST ADMIRED GLOBAL INDIANS 2020" was organized on the 9th January 2021, during a virtual gala through social media live addressing to the global audience. The magazine was unveiled by Dr GD Singh, Founder & President of Unified Brainz Group & Editor in Chief for Passion Vista Magazine along with Dr Neetu Singh, Managing Director for Unified Brainz Group expressing her vote of thanx to everyone for their association. In this collector's edition readers will have the joy to catch a glimpse of some of India's exotic unseen locations, luxury cruises from the world, savoury lip-smacking Indian dishes, most luxurious fashion & beauty brands along with America's changing Leadership. The event was witnessed by humongous audience along with friends from Bollywood & television industry, international supermodels, diplomats, socialites, business owners, entrepreneurs, media icons & industry leaders along with global subscriber base of Passion Vista. Just to name a few Shellie L Robinson, CEO for World Trust Media Network, Col Lalit Rai, VrC (Operations Vijay-1999, Kargil War), H.E. Nimisha Madhvani (Amb. Of Uganda), H.E. Anil Trigunayat (IFS Retd.), His Highness Dr. PRINCE MARIO-MAX SCHAUMBURG, Prince of Germany, Grandson of Princess Feodora of Denmark from Europe, Prince of Rajpipla), Manvendra Singh Gohil, Yuliya Lasmovick (Actress, Beauty Queen & Super Model, Hollywood, USA The event engagement was from over 26 countries to witness the global Indians who shared word of their wisdom and blessings to Passion Vista Magazine on completing its 2 years.
The Editorial Board of Passion Vista & Unified Brainz Group in association with our Evaluation Partner – CIAC Global & International Chamber partner Asian African Chamber of Commerce & Industry, announced the inclusion of these 52 illustrious Indians with their cover stories, Arunachalam Muruganantham, Amarjeet Singh Chawla, Amol Krishna Karale, Anandakumar Palanichamy, Avanish Singh Visen, Bhaichung Bhutia, Bhavesh Chelani, Angsuman Ojha, Deep Gadhecha, Diogo Monteiro, Dr (h.c.) Deepa Malik, Dr (h.c.) Mamta Binani, Dr Amit Pareenja, Dr Ankita Singh, Dr Arunima Sinha, Dr Arvind Patel, Dr Ashok Gaur, Dr Janantik Pandya, Dr Milap Goud, Dr Mukundarajan Sundararajan, Dr Ravi Rao, Dr Vineeta Ahooja, Gauri Awasthi, Gavi Kumar, Hari Charan Bade, Indrabhuwan Kumar Singh, Jayesh Shah, Jeroninio (Jerry) Almeida, K M Ramachandran, Kartikeya V Sarabhai, Kusum JainManish Aggarwal, Mayank Singhvi, Mohammed Mubin Mallick, Niraj Mittal, Palak Midha, Pawan Swamy, Pooja Batra, Raj Mohan Srivastava, Rigvedita Mahurkar Deo, S. Ravi Varman, Sachin Patel, Sangram Sinha, Satish Sadasivan, Shashank Joshi, Shikha Sharma, Sudarshan Sabat, Sukumar Bandreddi, Supriya Chadha, Varun Budhiraja, Vinay Lamba, Vineet Valentine Davis.
This event was conceptualized by Unified Brainz Group, a leading media & publishing house powered by Passion Vista –a luxury, lifestyle & business magazine in association with International Chamber partner Asian-African Chamber of Commerce & Industry (AACCI), jointly with CIAC Global as Evaluation Partner, Future Billionaire Network International (FBNI) as supported by partner & World Peace & Diplomacy Organisation (WPDO) as Philanthropic partner along with Gift Hamper Partner – Satya Xclusives and Bikano. Our sincere thanx to all our media partners – Young Boss Media and World Trust Media Network, Digital media partner Ten News (India), S Web Live Channel, Indrabhuwan Motivation, Online Media partner Awesome TV (USA), and PR Partner FAME Media and TVM Communication. Magazine partners OYO Herald (Nigeria) and Delight Communications, print media partners are Jai Hind and Surya Kaal.
To know more about us, check www.passionvista.com or to nominate for upcoming projects email us at [email protected]