Afghan women losing their hard-won rights, UN chief says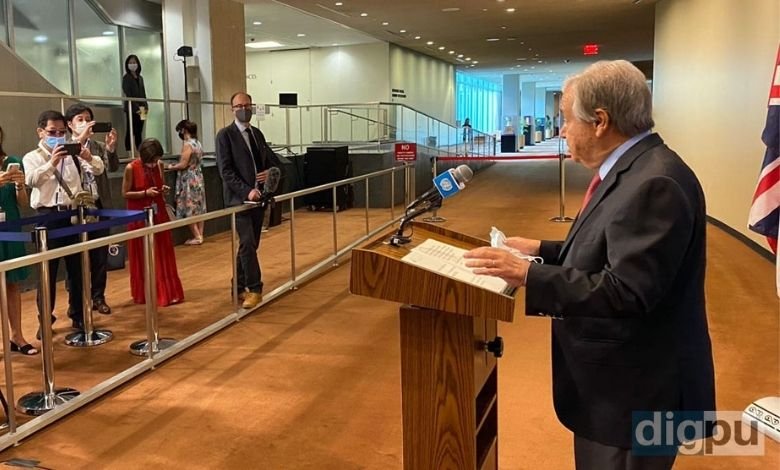 He reaffirmed the UN's commitment to protect all Afghans' rights and provide life-saving humanitarian aid.
NEW DELHI — The Taliban's alleged abuses of women's rights in Afghanistan have alarmed United Nations Secretary-General Antonio Guterres.
Mr Antonio Guterres said he was deeply troubled by news from Taliban-controlled regions in Afghanistan. It is appalling, Antonio tweeted on late Friday, that Afghan women and girls are losing their hard-won rights. He emphasized the UN's commitment to uphold all Afghanistan people's rights and deliver life-saving humanitarian assistance.
Increasing bloodshed as the Taliban intensifies attacks
Due to the Taliban's increasing onslaught, the insurgent organization has taken control of half of Afghanistan's 34 provincial capitals and presently controls nearly two-thirds of the nation.
With the total withdrawal of foreign soldiers only two weeks away, Afghanistan is seeing an increase in bloodshed as the Taliban intensifies its attack against Afghan forces.
As the Taliban gains momentum in Afghanistan, seizing several of the country's major towns, the terror group is also forcing women to marry its fighters.
Afghans fleeing to Kabul and others still in Taliban-controlled territory claim they have witnessed unjustified assaults on civilians and the death of captured troops.
Furthermore, they claim that the Taliban has requested that towns turn over unmarried women to serve as "wives" for its insurgents as a kind of sexual abuse, according to the Wall Street Journal.
UN chief says the battle is causing "tremendous harm"
Earlier on Friday, the UN chief said that the battle between the Taliban and Afghanistan's security forces is causing "tremendous harm" during a briefing on Afghanistan.
Directing strikes against people, according to Guterres, is a severe breach of international and humanitarian law and a war crime.
As per him, the conflict between the Taliban and Afghan security forces is wreaking havoc, given that around 241,000 people have been forced to abandon their homes, and the humanitarian crisis is just getting worse. He stated that women and children are bearing the brunt of the violence.
He also observed that the perpetrators must be held responsible in order to stem the looming humanitarian crises in the region.
It is pertinent to mention here that Taliban leaders have publicly pledged to be magnanimous in victory, assuring Afghanistan's government officials, troops, and citizens that they have nothing to fear as they gain control of larger swaths of the country.