Opinion
Didi and the art of dodging Congress dosti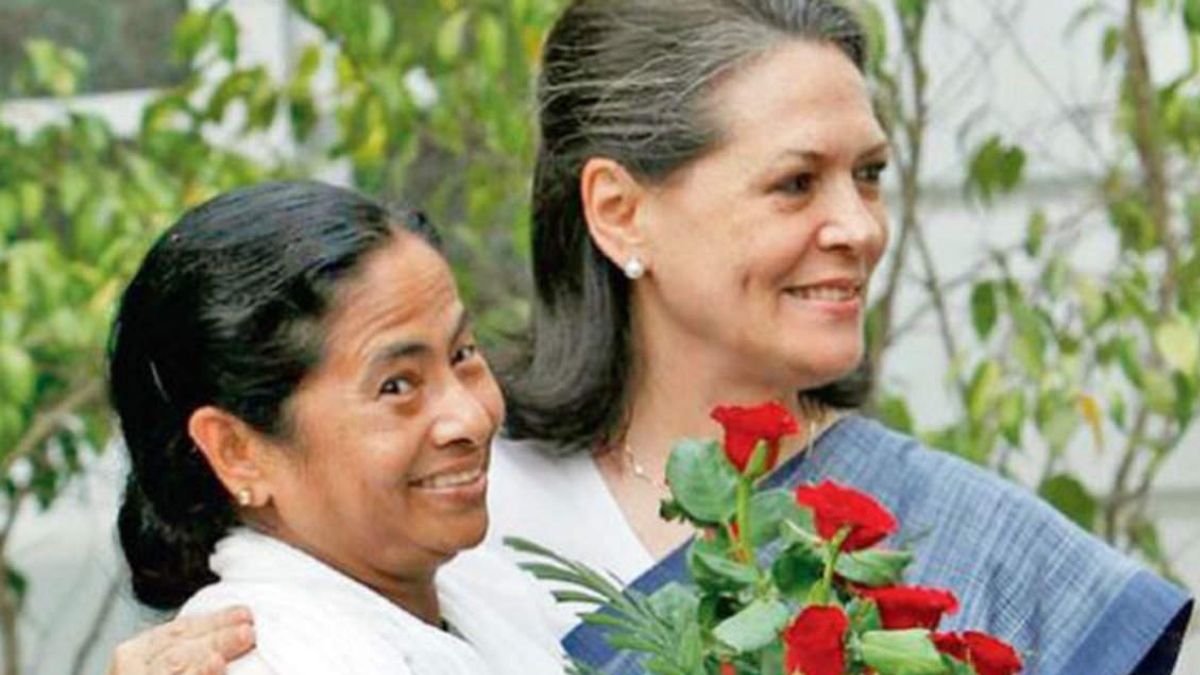 Mamata gave Sonia the miss, and when asked whether she would call on the Congress president, her retort was loaded.
It looks like Didi doesn't believe in being friends with the Congress anymore. Though Mamata Banerjee, the Trinamool Congress supremo and West Bengal Chief Minister, has always been very close with Congress President Sonia Gandhi, she seems to have now decided to drive past all such ties.
This was evident when Mamata, on an official visit to New Delhi, decided not to meet Sonia. She called on Prime Minister Narendra Modi and discussed issues such as the BSF's territorial jurisdiction in West Bengal and urged him for a withdrawal.
That being strictly official, she gave it more focus. But Sonia Gandhi was given the miss, and when asked whether she would call on the Congress president, the retort that came from Mamata was loaded.
When she said she was "not constitutionally mandated" to meet Sonia, she was indeed making her stance clear. Thought she dropped just a hint by saying that, it makes one think that Mamata does not want to be on Congress's good books anymore.
Her stance needs to be read in the context of Trinamool's recent forays into uncharted territories of late. A look at recent history would make it doubly clear that Trinamool isn't willing to see the Congress as an ally in the days to come.
Congress leaders rush under TMC umbrella
Recent developments have tilted towards the Trinamool Congress (TMC), with even top leaders of the Congress switching over to Mamata's party. The past few days had seen 12 of 17 Congress MLAs in Meghalaya crossing over to the Trinamool Congress. And significantly enough, former Chief Minister Mukul Sangma was one of them. That indeed draws a clearer picture of what the Congress is left with as of now.
As the TMC made an entry into the political terrain of Goa, with the aim of winning big in the upcoming Assembly polls, the party was successful in roping in former Chief Minister and Congress veteran Luizinho Faleiro. All these have disrupted the TMC-Congress camaraderie, and with it Mamata's closeness to Sonia.
In Meghalaya, Trinamool Congress is now the largest Opposition outfit. This is significant as the party till a few days ago was a non-entity in the state.
A while earlier, Congress MP from Silchar in Assam and former president of the All India Mahila Congress, Sushmita Dev had also joined the TMC. That's not all. Congress leader Kirti Azad, and former Haryana Congress president Ashok Tanwar had also recently switched allegiance to the TMC. The Congress flow into the TMC ranks has, naturally, upset the Congress top brass. They have hopped on to Twitter to air their displeasure.
Calling on Sonia 'not constitutionally mandated'
Mamata's visit to the national capital had just one agenda – a meeting with the Prime Minister. But when she gets to answer the 'why not Sonia' question, it obviously has irked her. Her retort that 'work comes first' and 'why should we meet Sonia every time we are in Delhi' comes from a leader who would not want to extend ties with a party whose workers and leaders alike are queueing up to join the TMC.
Congress isn't in any way amused by Mamata's behaviour, though. Mamata sharing good relations with Sonia Gandhi was taken for granted by the Congress leadership. The grand old party is yet to come to terms with the reality that has been happening around it. Now with Mamata deciding to look the other way must irk the Congress leadership, as much as it has been hassled by the outflow of leaders from its camp to the TMC.
On the other hand, Mamata thinks she would be better off without the Congress's blessings. The recent developments point to that for sure. And now, with Mamata deciding to think different when it comes to meeting Sonia while on a visit to New Delhi could be seen as the last nail.