India News
Durga Puja of West Bengal: A sacred precept of communal harmony that has shattered the historic dirge of oppression and dogmatism
Celebrating culture instead of religious dogmatism, a vibrant proof that secularism is NOT a 'one-sided' affair in India.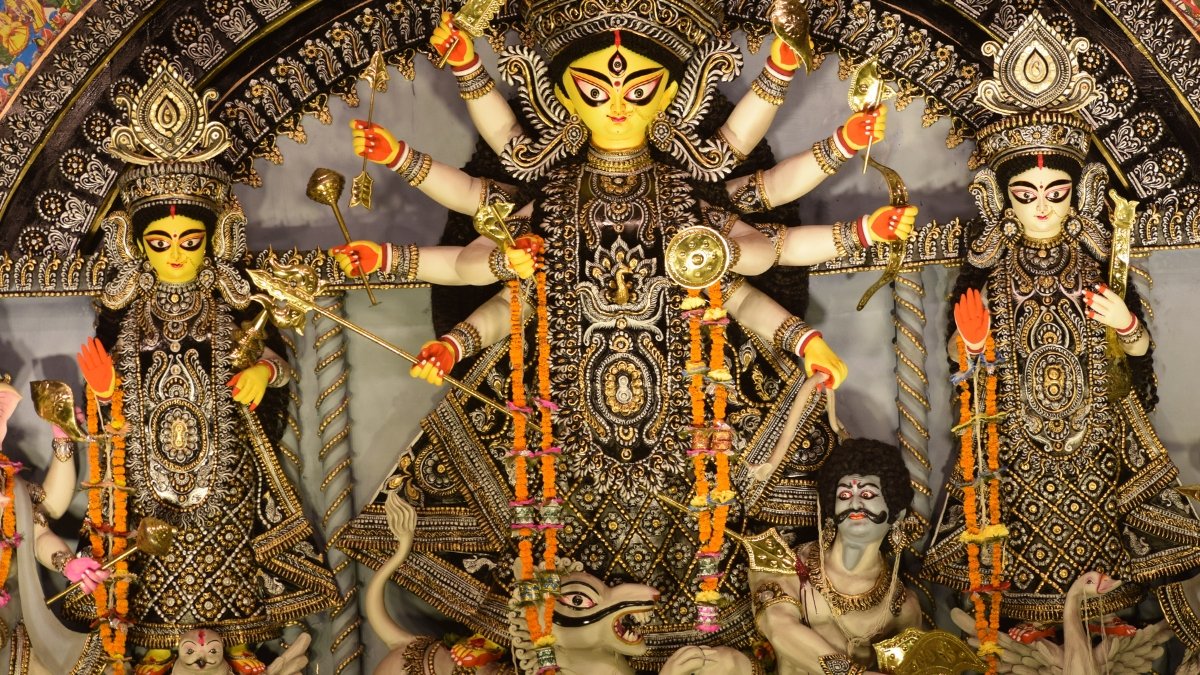 One of the most celebrated festivals of eastern India is the Durga Puja (pronounced 'Pujo'), which stretches for five days, coinciding with 'Navraatri' during the 'Sharat Ritu' (Autumn). It is a festival that narrates the vigour of divine feminity against evil. For us Bengalis, this celebration is unlike any other, as we decorate our homes and our cities to welcome Devi Durga's ten-day stay at her paternal abode with her four children (Ganesh, Laxmi, Kartikeya, and Saraswati), after completion of which she shall again return to her husband in Kailash.
The festivity provides a huge impetus to the economy and fosters an intra-cultural bonhomie in different parts of the world with a significant Bengali population. So much so that in 2021, the grand festivity got inscribed on the UNESCO Representative List of Intangible Cultural Heritage, granting it elite status in the list of cultural traditions from across the globe.
At times, when numerous Yatras and processions get associated with political sloganeering and religious violence, Bengal's Durga Puja has emerged as a cultural event where each 'Durga Pandaal' (a temporary shed built on Bamboo frames and adorned with numerous intricate decorations) displays a specific 'theme' ranging from social issues to works by eminent philosophers and artists. One of the most recurring themes in these Pandaals is the message of 'Communal Harmony' (Bengali: Samprodayik Sampriti).
It is worth mentioning that this attempt at fostering communal bonhomie is not merely one-sided. I would love to illustrate some of the numerous instances where minorities have voluntarily stepped up to actuate the grand celebration of feminity in East India.
Maa Durga enters Kolkata's Alimuddin Street:
Alimuddin Street is a Muslim-majority locality in the heart of Kolkata. In its colonies lives a sole Hindu family. Muhammad Taufiq Rahman, a resident of that area, decided to arrange a Durga Puja from scratch to foster a sense of solidarity with the Hindu family.
Rahman maintains that celebration knows no religion, and each year, a group of Muslim youth from their neighbourhood flock to Kumartuli (an area in Kolkata that is historically renowned for making idols of Gods and Goddesses) and book an enigmatic idol of Maa Durga! The stage, which also serves as the 'Shamiyana' for Eid, metamorphoses into the Durga 'Pandaal,' but the spirit of celebration remains unchanged.
Similarly, the Tilabani Village of the Durgapur-Faridpur block of West Bengal witnesses a consolidated effort from the Hindu and Muslim populations to arrange and celebrate each Puja Pandaal during the grand festivity.
An interesting ritual at Chanchal Rajbari, Maldah, West Bengal:
The Durga Puja of the Chanchal Rajbari (Palace) is 350 years old and is characterised by a distinctive ritual. The local adage goes something like this:
Once, the Chanchal region was plagued with a severe endemic. During this time, several of its Muslim inhabitants allegedly saw a dream where Maa Durga ordered them to participate in the ongoing Durga Puja in return for which she would cleanse their neighbourhood of every disease. Hence, the venerated Muslims flocked the Chanchal Rajbari during the 'Bisorjon' (idol-immersion) ceremony and upheld lanterns to guide Maa Durga's final procession to a nearby lake. Each member of the Muslim household had gathered around the lake holding candles and lanterns illuminating the last rite of Durga Puja!
Since then, this ritual has remained sacrosanct, and the idol of Maa Durga does not touch the water unless each Muslim in the locality bids the Mother Goddess a heartfelt farewell.
Sculptor Nur Muhammad Chaudhari and his unbounded love for Maa Durga:
The Durga Puja in Haldia, West Bengal, is characterised by colossal idols of the Goddess shaped with reverence by eminent sculptor Nur Muhammad Chaudhari. The inception of his idol-making career was due to financial restraints, but soon, he fell in love with his work and continued despite repeated warnings by orthodox Maulavis. They even issued a Fatwa against Nur, but he never yielded under socio-religious pressure.
Revolutionary Bengali Poet Kazi Nazrul Islam upheld the revolutionary undercurrents associated with Durga Puja and compared Maa Durga with Bharat Mata in his poems. In one of his poems, Kazi writes:
"Oh, the Mother Mahish-asur-mardini (destroyer of all evil)…
Wake up and show your rage!
Let the sacrifice of 'Jatin' (a reference to the martyrdom of Jatin Das) break your trance,
Through your gaze, let the fire of 'New India' begin…"
According to Kazi, Maa Durga was the cynosure of nationalistic sentiments during the colonial era, and he used the festival as the dais for preaching communal harmony.
The economic relevance of Durga Puja to the economy of Bengal is unparalleled. According to a report in 2019, the festival alone contributed a crucial 2.58% of the State's GDP. The eateries, garment shops, idol-makers, and pandaal makers earn a lump sum through this grand celebration, irrespective of religion, caste, or creed.