Coronavirus and unendurable weather ruin Kashmir's apple crop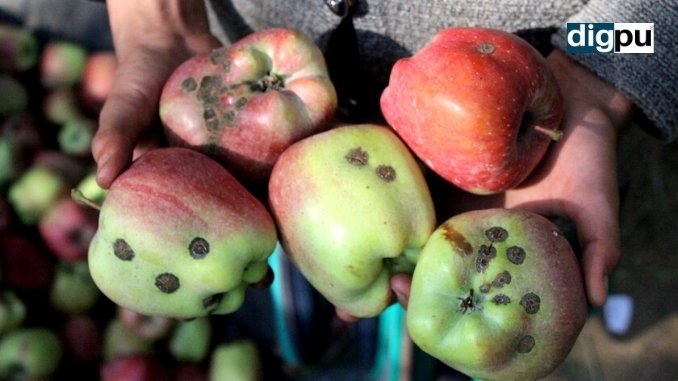 Orchardists are unhappy as they are finding it hard to pay off loans due to the bad state of Apple produce, which is fetching them very little.
Srinagar, J&K —
With Coronavirus lockdown restricting the movement of orchardists for months coupled with extreme weather conditions leading to irreparable damage, Apple produce cultivation in Kashmir valley is a low-key affair this year, at least for the growers.
The Horticulture sector received a deadly blow when Coronavirus-induced lockdown was announced in March, given the fact that Kashmiris were still dealing with the effects of strict security restrictions imposed by the BJP-led Central government after it scrapped the special status of the erstwhile State and also downgraded it into a Union Territory in August last year.
Orchardists are unhappy as they are finding it hard to pay off loans due to the bad state of Apple produce, which is fetching them very little.
Abdul Hamid, a local orchardist in Pulwama town, says, "It is difficult to make a living after the COVID-19 induced lockdown hampered our movement and we could not spray pesticides on time, besides the weather also made things difficult by damaging the produce severely."
"This is what we are getting as a return for our hard work for the whole year," he says, after picking up a blighted apple.
Unfortunately, apple scab (a fungal disease that covers the fruit in velvety brown spots) also made a comeback due to the incessant rainfall after nearly two decades, according to the local growers.
While the government advised people to stay home to help break the chain of Coronavirus spread, orchardists didn't get fungicides at the right time to control apple scab and therefore, couldn't do much.
Kashmir's apple industry has not been affected by drought alone but unusual incessant rains also spoiled the fruits. Heavy rains and hailstorms in flowering season damaged blossom and kept away pollinators like bees and butterflies which dashed the hopes for a good yield, even before the dry weather had come.
Preliminary estimates from various sources, including Valley's Horticulture department, reveal that nearly one-third of the region's total apple produce was affected. Also, apple harvests have dropped by nearly 40 per cent.
Although the produce is not good both in terms of quantity and quality in most of the orchards, it is ironic to witness that the rates are far better when compared to the last year. To recall, an atmosphere of fear prevailed in the harvesting season when militants had attacked and killed non-local labourers, apple traders and truckers in October last year. This had led to a drastic fall in apple prices.
"Wish we had just half of the produce we sold last year, we could get some 10 lakh rupees and would buy my dream car," Sahil Ahmad, a youth busy plucking apple in his orchard, says.
From Arihal village of the southern Kashmir's Pulwama district, the boy looks very disappointed with this year's produce in their orchard. "I keep on telling my family to uproot these apple trees and build a shopping mall instead. At least, we would not be in losses," he adds, while avoiding the gaze of his father.
It is pertinent to mention here that apple cultivation is a major activity in Kashmir, with almost half of the valley's land occupied by apple orchards. The apple orchards need just the right amount of rain, as too much or too little can severely affect the quality of the fruits. However, moderate rainfall at different stages during the maturation of the crop is extremely critical.
But orchards in the valley are vulnerable to worsening weather conditions, as nearly 40 percent of Kashmir's farmland depends on rain for irrigation, according to the government's latest economic survey.
The UT's meteorological department revealed last month that the Valley had experienced its biggest rain shortfall in the last 78 years, with 54 percent less than the average between June and August.
Horticulture, being the backbone of Kashmir's economy, is providing a living for millions of people, specifically about 40 per cent of the population as per the J&K Government's 2016-2017 economic survey.
This is an exclusive story and is not for reproduction.