India News
Centre is using ED and IT to destabilise and defame Chhattisgarh government ahead of State elections: CM Bhupesh Baghel alleges in a press meet
CM Baghel alleges that ED officials threatened and trapped his colleagues into signing 'ambiguous' documents and asked political questions ahead of inbound elections.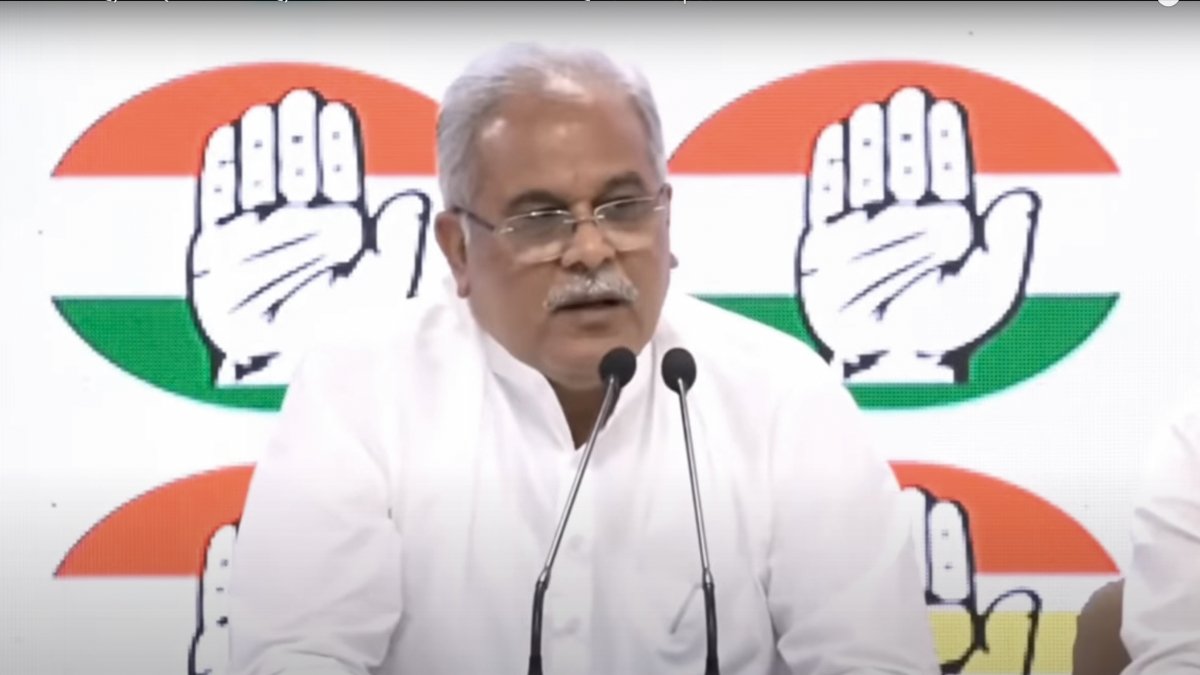 On August 24th, Chief Minister Bhupesh Baghel of the election-bound state Chhattisgarh addressed a press conference at the INC (Indian National Congress) Headquarters in Delhi, where he lashed out at the ruling BJP government for misusing tax-payer funded agencies like the Income Tax (IT) Department and the Enforcement Directorate (ED) for pursuing a political vendetta against the Chhattisgarh government.
A day earlier, the ED and IT carried out a series of raids in the districts of Raipur and Durg, putting four close associates of the CM behind bars. The Arrestees include Assistant Sub Inspector (ASI) Chandrabhushan Verma, CM Baghel's political advisor Vinod Verma, and two Officers on Special Duty (OSDs) Ashish Verma and Manish Banchhor.
While ASI Chandrabhushan Verma got detained over money-laundering charges through the Mahadev Online Book App Case (online betting application), the other arrests got carried out for a 'presumable' nexus with Baghel government's alleged coal scam, liquor scam, and irregularities in the District Mineral Foundation fund. The ED and IT have jointly carried out over 200 raids ahead of the Chhattisgarh Legislative Assembly.
Some of the military personnel got stationed outside the residence of CM Baghel's close associate and businessman Vijay Bhatia in the Nehrunagar area of Bhilai in Durg.
The arrests occurred on August 23rd, on CM Baghel's Birthday. He thus retaliated against the Modi government via a mocking tweet where he wrote, "Respected Prime Minister and Mr Amit Shah! Thank you very much for the priceless gift you have given me on my birthday by sending ED to my political advisor, OSD and close aides."
CM Baghel illustrates the "blunders" in ED's modus Operandi
During the press conference, CM Bhupesh Baghel went all guns blazing against the ED's allegedly inappropriate method of pursuing its cases. He maintained the raids carried out were unabashedly political in nature and were done with the sole purpose of defaming and destabilising his government before the Chhattisgarh Legislative Assembly Elections scheduled to take place in November this year.
During the press meet, CM Baghel criticised ED's slapdash method of carrying out raids. He pointed to numerous flaws in ED's functioning:
Baghel mentioned that the ED officials threatened and trapped his colleagues into signing 'ambiguous' documents;
Baghel spoke about how the ED violated his colleagues' privacy and interrogated them at late hours, even after 11 p.m., not allowing them to sleep;
Baghel mentioned how they confiscated their mobile phones and other personal belongings and put them under house arrest for five to six days without any mercy for the elderly or sick members of the house;
He mentioned how the ED and IT officers beat around the bush without asking them any relevant questions and harassed them until their "high command" ordered them to quit.
CM Baghel also mentioned how the ED raided his associates without the necessary ECIR (Enforcement Case Information Report), and it was a blatant breach of their own method of operation. An ECIR is similar to the police's First Information Report (FIR) and is "just a name" given to an internal document for identifying a case.
CM Baghel did not spare an opportunity to bash ED Chief Sanjay Mishra, saying that he (Mishra) had a task to satisfy his "Aaqa" (overlord) by orchestrating such raids during the last leg of his "terrorising" career. He added that Mishra would leave no stone unturned to trouble the opposition on Mo-Shah's whims.
CM Baghel posts a direct challenge to the BJP ahead of the Chhattisgarh Legislative Elections:
CM Baghel reminded the BJP to be wary of the misuse of their power. He reiterated that the Modi government would soon receive a befitting reply from the masses, where they might not secure even 15 out of the 90 seats during the state's Vidhan Sabha elections.
Baghel maintained that the BJP was looking to tackle Congress in Chhattisgarh using 'ED and IT,' and this strategy would keep them stranded away from the hearts of the people of Chhattisgarh.