Nothing Off Limit In Winfrey's Interview with Meghan Markle And Prince Harry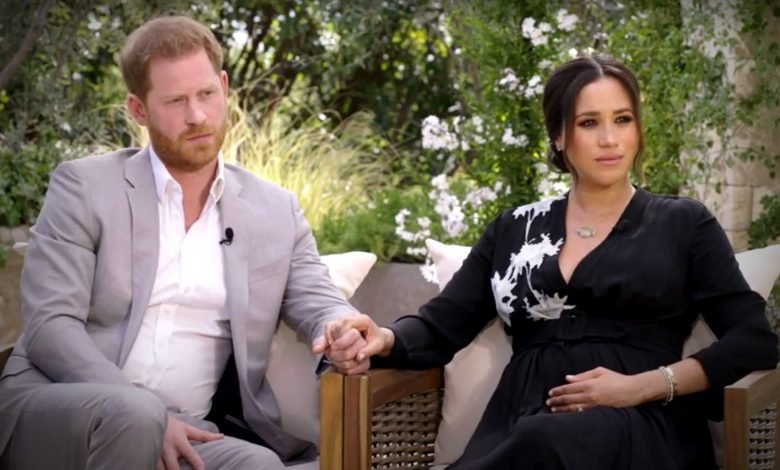 "Were you silent or were you silenced?" Winfrey asks the Duchess of Sussex at the beginning of the clip.
In the first look clip of Prince Harry and Meghan Markle's Oprah interview that appeared during the 78th Golder Globe Awards on Monday 01st March 2021, the couple speaks about an 'unbelievably tough' royal life. In an interview with Oprah Winfrey, Harry invoked the memory of his late mother, Princess Diana, who had to find her way alone after she and Prince Charles divorced.
The Duke and Duchess of Sussex sat side-by-side holding hands and opposite Winfrey during the interview that was conducted in a lush garden setting. Prince Harry says in one of the clip, the process of separating from royal life has been very difficult for him and his wife, Meghan Markle.
"My biggest concern was history repeating itself," he says. "I'm just really relieved and happy to be sitting here talking to you with my wife by my side because I can't begin to imagine what it must have been like for her going through this process by herself all those years ago," the prince says as an image of Princess Diana holding a young Harry flashes across the screen. Harry said, adding, "because it's been unbelievably tough for the two of us. But at least we have each other."
The two brief teaser clips were aired on Sunday night during CBS' news magazine "60 Minutes." Oprah Winfrey's questions and comment were predominant in one of the clips, including her statement, "You said some pretty shocking things here," without any indication of what she was referring to. Meghan was not heard from in the clips.
In one of the clips, Oprah asks Meghan who dressed in a stylish black dress, "Were you silent or were you silenced?" I just want to make it clear to everybody. There is no subject that's off-limits. "before discussing a 'breaking point'."
According to a press release put out by the network, CBS revealed what topics will be covered in the interview. "Winfrey will speak with Meghan Markle, in a scenic interview, covering everything from stepping into life as a Royal, marriage, motherhood, philanthropic work to how she is handling life under intense public pressure." "Later, the two are joined by Prince Harry as they speak about their move to the United States and their future hopes and dreams for their expanding family."
It's the first on-camera interview for the couple who will appear on March 7 for the interview called "Oprah with Meghan and Harry." According to sources, the formerly 90-minute interview has now been extended to two hours, from 8 p.m. to 10 p.m. Eastern.
Meghan Markle, an American actress starred in the TV legal drama Suits. he married Queen Elizabeth II's grandson at Windsor Castle in May 2018, and their son, Archie, was born a year later. Unhappy with British media racist attitudes toward the duchess, who is African American and the strictures of their roles, Harry and Meghan stepped away from full-time royal life in March 2020.
It was agreed the situation would be reviewed after a year in the so-called "Megxit" deal, in which the couple wanted to step back from public life, but still serve and retain some privileges. On Friday 26th February 2021, Buckingham Palace confirmed that the couple will not be returning to royal duties and Harry will give up his honorary military titles — a decision that makes formal, and final, the couple's split from the royal family.
Sincere they relocated to California, the couple has signed worthwhile deals with Netflix and Spotify. Meghan and Harry are also expected to formally launch their new non-profit Archewell in the coming months. Meghan is expecting her second child with Harry currently.
Oprah who is set to have an "intimate conversation" with the Duke and Duchess of Sussex for a prime time special is also a close friend to the Sussexes. She attended the couple's royal wedding in May 2018 and is also been working with Prince Harry on a forthcoming mental health-focused program for Apple TV+.