Sharda University aligning with NEP 2020 to build careers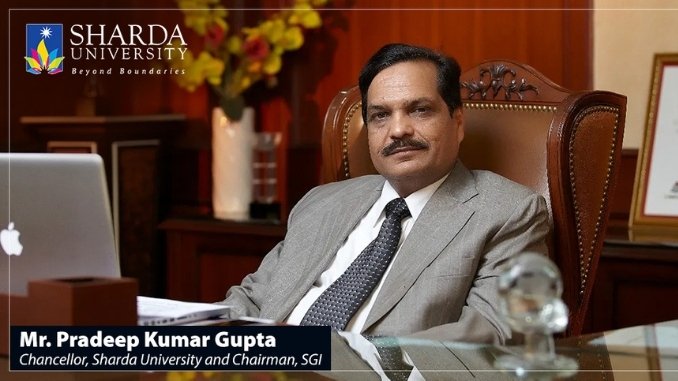 Sharda Launchpad, the Startup wing of Sharda University has over the last five years been serving as the springboard for students and budding entrepreneurs.
Futuristic education policy lays the foundation for a nation's progress. Be it new discoveries, knowledge creation, skillset building, and innovation- the determining factor behind creating future nation builders is a good education. In this regard, the New Education Policy (NEP) 2020 is futuristic, augmentative, and ambitious. Shri Narendra Modi, the Hon'ble Prime Minister of India has ushered in a change in education that will pave the way for students to widen their skill sets, be a job creator rather than job seeker and play a pivotal role in India's development.
P K Gupta, Chancellor, Sharda University is proud of the fact that Sharda is in sync with the vision of the Hon'ble Prime Minister's new education policy where the focus is on building skills and nurturing entrepreneurs who'll drive the change tomorrow. Sharda Launchpad, the StartUp wing of Sharda University has over the last five years been serving as the springboard for students and budding entrepreneurs who are living the dream to make India self-reliant.
Sharda Launchpad is the Business Incubator (BI) of MSME and has collaboration with StartUp Incubation and Innovation Centre, IIT Kanpur for sharing of resources. Sharda Launchpad's mission is well-recognized by the Govt. of India and eight of its incubates have been selected to be assisted by INVEST INDIA – National Investment Promotion & Facilitation Agency, Ministry of Commerce and Industry, Government of India.
In line with NEP, Sharda University offers 216 UGC recognized future-focused Programme/Plans in Engineering, Management, Medical, Dental, Architecture, Animation, Design, Visual Arts, Law, Computer Applications, Journalism & Mass Communication, Film & Television Production, Basic Sciences, Agriculture, Biotechnology, Bioinformatics, Genetic Engineering, Stem Cell & Tissue Engineering, Food Science &Technology, Pharmacy, Physiotherapy, Humanities, Languages, Education, Yoga etc. New age programmes in Stem Cell & Tissue Engineering, Artificial Intelligence & Data Analytics, Robotics among others are offered to make the students future-ready.
Sharda University's Design and Innovation in Emerging Technology (DIET) centre is a partner of National Productivity Council (NPC) to establish centre of excellence on Industry 4.0 and Finance 4.0. It is giving support for curriculum 4.0 by connecting with more than 100 industries in NCR to facilitate students for industry visit, industry projects, design and 4Ms (Man, Machine, Money and Manufacture) for smart industry towards 4.0. and smart finance 4.0 for students of the University. This Centre also treads the line of the New Education Policy where the focus is on industry ready and employable students.
P K Gupta, Chancellor of Sharda University while sharing his opinions on the various aspects of the new National Education Policy believes that there is a pressing need of right universalization for early school education in India to foster new life skills and interactive learning through multi-faceted curriculum to transform India into a vibrant knowledge society. The day is not far when an Oscar or Pulitzer prize winning by Indian people will be just another headline in the newspaper, as the new education policy will lay special emphasis on language, culture, and traditions to bring out the best in India's languages in both prose and poetry belonging to ancient and modern literature. The new emphasis on Indian languages is a welcome and refreshing change as there is an endless stream of untapped knowledge in it which is yet to be explored.
Also, Higher Education Commission of India (HECI) will be setup as an umbrella institution for higher education and the four-year undergraduate programs with multiple exit options will be introduced. This, in turn, would be helpful to students who, after getting an admission or in the midst of a program, decide to leave the current program and join another program, or come back at a later stage to pursue the same. Sharda University has, and will, always work with the students and government to implement the aforementioned changes (though government has set a target till year 2040 to implement these changes) , so that its students can take advantage of the newly implemented policy to reach the zenith of their learning curve and achieve success on both personal and professional fronts.
The new education policy states that by FY 2030, the minimum degree qualification for teaching will be a 4-year integrated B.Ed. degree, the two-year B.Ed. programs will also be offered, by the same multidisciplinary institutions to those who have already obtained Bachelor's Degrees in other subjects which can be adapted to suitable one-year B.Ed. programs. Once again, Sharda University is ahead in time in thinking both and is already offering B.Ed. programs as an integrated course with other specialization.
For online registrations in UG/PG programmes, click here. To take a virtual tour of the website, please visit the website.