Karnataka schools reopen after 18 months; Maharastra uncertain, Tamil Nadu & Rajasthan on Sept. 1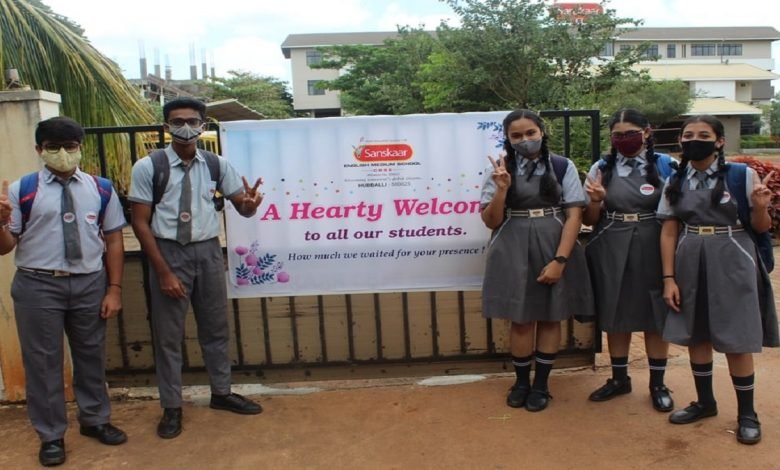 The new Karnataka CM Basavaraj Bommai said an expert panel would also evaluate the situation and consider the resumption of classes in primary schools.
Bengaluru: Schools, colleges, and Universities opened in Karnataka with all the precautions in place on August 23, 2021.
In one way, parents are happy the kids are going to school after 18 months, but then again, the Delta variant fears plaguing the world in the 3rd coronavirus wave.
The education institutes will resume classes 9 to 12 from Monday only in regions with a test positivity rate of 2 percent or less.
TOI reported CM Bommai visited a school in Bangalores Malleswaram Monday morning and welcomed students back to schools after a long break necessitated by the Covid-19 pandemic.
"In online classes, the network is an issue, but communication with teachers will be better in physical classes. Students will be with friends, and so mentally, they are happy. This is real freedom for them. By the end of the month, the expert committee will meet, and we will look into opening primary schools as well," Bommai said.
25 students limited to one classroom in Karnataka
According to the Indian Express, Primary and Secondary Education BC Nagesh Minister said schools had restricted students to 25 in each classroom. "The students will be monitored for symptoms. I have visited the schools, and preventive measures are in place," he said.
The minister added that a meeting would be held after a week to examine the situation. Based on the evaluation, a decision will be taken to reopen schools for the primary classes.
All teachers who are vaccinated are requested to attend school without fail.
Other states
Schools in Haryana, Uttarakhand, Puducherry, Punjab, Lakshadweep, Nagaland, and Chhattisgarh resumed in the initial week of August. Andhra Pradesh also continued courses from August 16.
While the most affected state, Maharastra, is in two minds, Tamil Nadu and Rajasthan will reopen schools for classes 9 to 12 with a 50 percent capacity from September 1.