Modi's popularity is slipping in India, Morning Consult ratings show
On August 6, 2019, Modi's Net Approval was 68% now it comes to 38%
Prime Minister Narendra Modi's popularity graph in India is showing a downward trend, as per Morning Consult's Global Leader Approval Rating Tracker.
As per the latest data from June 15, 2021, the Net Approval for Narendra Modi is 38% (66% Approve – 38% Disapprove). However, on August 6, 2019, the same leader's Net Approval was 68% (82% Approve – 14% Disapprove).
Net Approval is calculated by Political Intelligence of Morning Consult considering the share of the country's residents that approve minus the share that disapprove of the leader.
About the PM Modi's rating, the Morning Consult states that approximately a Sample Size of 2,126 Adults was interviewed.
The present Net Approval percentage of Modi, however, tops the list of other global leaders on the list including the likes of Joe Biden (President of the United States), Jair Bolsonaro (President of Brazil), Mario Draghi (Prime Minister of Italy) and Boris Johnson (Prime Minister of the United Kingdom).
Meanwhile, Shivraj Singh Chouhan, the chief minister of Madhya Pradesh, on Friday said the he felt proud that PM Modi topped the list with an Approval rating of 66%.
"Proud and pleased to share that PM Shri @narendramodi Ji has topped the list of global leaders with 66% approval rating. This shows the level of faith & belief of the people which they have for our leader. Under his leadership, India is marching forward steadily on all frontiers," he tweeted.
As the country struggled to contain a deadly second wave of the Coronavirus pandemic, Prime Minister Narendra Modi's approval ratings plummeted to a new low last month. His Net Approval rating was 31.
The big decline, however, happened in April when his net approval dropped 22 points, lowest since he swept to power in 2014 and was re-elected in 2019 with the biggest majority of any leader in three decades.
That steep drop occurred when the pandemic looked to be overpowering big metropolitan centers such as Delhi, where hospitals ran out of beds and life-saving oxygen, and people perished gasping for air in parking lots.
Bodies piled up in morgues and crematoriums, and outrage over the suffering and apparent lack of government help increased on social media.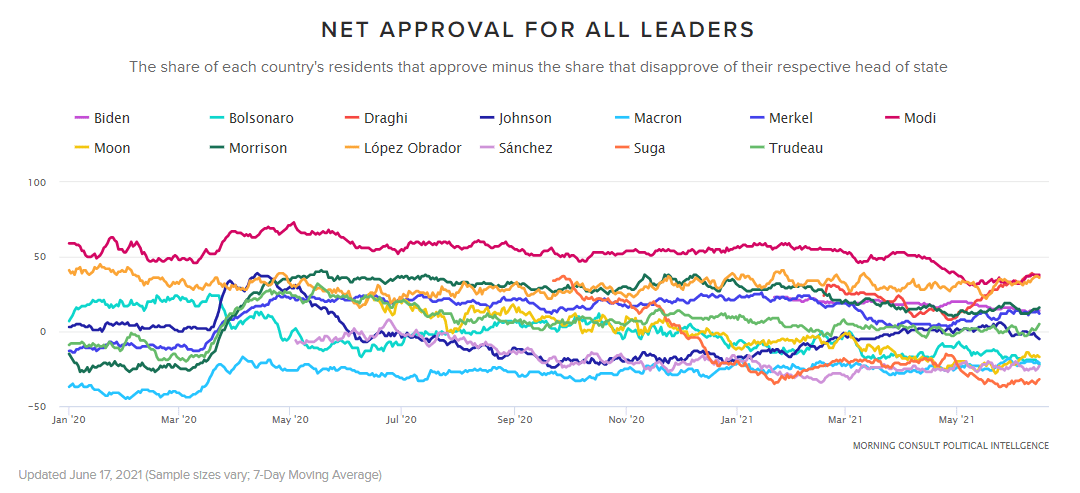 It is in place to mention here that Morning Consult is a global, privately-held data intelligence company established in 2014. The company specializes in online survey research techniques and has offices in Washington, D.C., New York City, Chicago, and San Francisco.
The company's Political Intelligence is currently tracking the approval rating for governmental leaders in Australia, Brazil, Canada, France, Germany, India, Italy, Japan, Mexico, South Korea, Spain, the United Kingdom, and the United States.
On a weekly basis, the survey is updated with the latest data for all 13 countries, offering real-time insight into the shifting political dynamics across the globe.