India News
Amarnath Yatra commences amid strict security cover in Kashmir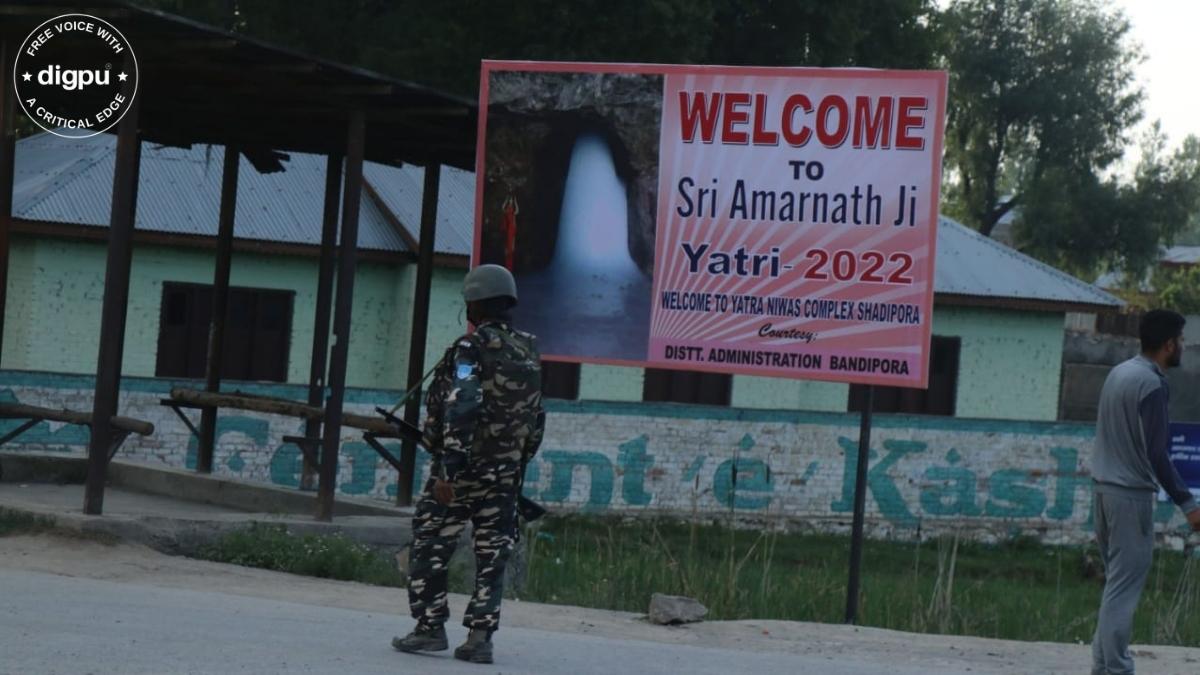 RFID location chips have been placed with the pilgrims, and unmanned aerial vehicles have been brought to use to monitor the pilgrimage routes
After a two-year hiatus, the annual pilgrimage to Amarnath began on Wednesday, with the deployment of 500 more companies of security forces.
According to the authorities, at least 500 more security forces' companies, including the BSF, CRPF, ITBP, and SSB, have been deployed to ensure the smooth operation of the pilgrimage.
Additional companies of security forces to enhance Yatra security
For the smooth and secure conduct of the yatra, additional security personnel from the police, CRPF, CAPF, CISF, BSF, and Army are posted within Jammu, in the surrounding areas, and along the national highway between Jammu and Srinagar.
They said that as part of the security grid, there would be 24-hour patrols at Yatra routes and roads. "Majority of security forces have been posted at base camps, Yatra routes, and vulnerable places along the highways," an official said.
Magnetic 'sticky' bombs a security concern
The pilgrims have been equipped with RFID location chips, and unmanned aerial aircraft have been deployed to monitor the pilgrimage routes.
According to police sources, they are particularly concerned about the militants' use of magnetic bombs.
Vijay Kumar, the IGP of Kashmir, paid a visit to the cave shrine and assessed the security measures in place for the pilgrims.
There is nothing to worry, says LG Sinha
Lieutenant Governor Manoj Sinha also expressed satisfaction with the security scenario. "There is no worry since all security procedures were in place," according to J&K LG Manoj Sinha.
On Monday, Sinha, who also serves as the head of the Shri Amarnath Shrine Board, went to the Yatri Niwas to assess the state of the Yatra's preparations.
According to Sinha, the residents of both Union Territory regions are eager to welcome the pilgrims, and the security forces are on high alert to ensure the smooth operation of the Shri Amarnath pilgrimage.
LG flags off the first batch of pilgrims
According to officials, LG Sinha led the first group of Amarnath pilgrims out of Yatri Niwas in Bhagwati Nagar on Wednesday morning.
Government officers, the mayor of Jammu, and LG Manoj Sinha flagged off the first batch in the morning from Yatri Niwas.
They said that the first batch will go towards the Chandanwari and Baltal roads in a tightly guarded convoy driven by CRPF and J&K Police vehicles.
The officials also stated that the pilgrims will have access to all necessary amenities.
Amarnath Yatra commences after a two-year gap
Notably, the Shri Amarnath Yatra is being organised this year after being postponed in 2020–21 owing to the COVID pandemic and shortened in August 2019 due to the revocation of Article 370.
Raksha Bandhan, on August 11, will mark the end of the 43-day Yatra this year.
The administration has made the cautious decision to prevent visitors from travelling past Pahalgam and into the Betaab valley in south Kashmir. Additionally, media will not be permitted past the Baltal and Nunwan base camps in Sonamarg and Pahalgam, respectively.