Academic Session 2020-21 at UPES gets off to a flying start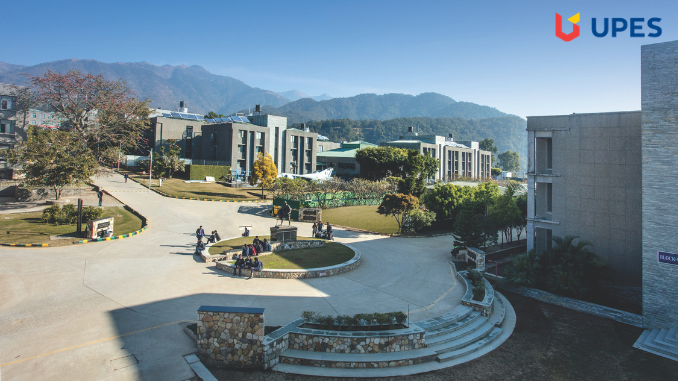 A host of workshops, masterclasses, exploratory projects, CEO talks and conversations with mentors have given a solid start to the freshers' academic journey at UPES.
COVID-19 and the resultant chaos radically changed the lives of the students and proved to be a litmus test for educational organizations as well. UPES is one of the few institutes that managed to ride the tide due to their tech-led pedagogy, digitized curriculum, online-proctored examination system and faculty trained in conducting virtual classes.
UPES began its academic year (AY) 2020-2021 on time after concluding AY 2019-2020 with online examinations and result declaration. The university developed and implemented an Immersive Academic Learning Framework (IALF) for this year's batch, aptly called the Resilient Class of 2020.
Consisting of three phases: Induction, Pre-Semester Learning, and Semester Commencement; this initiative turned around the stressful scenario into an interactive learning opportunity for students. Pre-semester learning, which began from August 3, consisted of workshops, masterclasses, exploratory projects, CEO talks and conversations with mentors.
A virtual inaugural ceremony was held for the B.Tech students of School of Engineering with Mr. Kishore Jayaraman, President, Rolls Royce, India and South Asia, as the Chief Guest. He emphasized that "every crisis is a burning opportunity," and the world will be able to emerge from it successfully. For the M.Tech program, Mr. Suraj Chettri, Regional Director HR, Airbus – India & South Asia, was the chief guest of the inaugural ceremony.
The young technocrats at the School of Computer Science also had the opportunity to listen to Mr Vithal Madyalkar, Program Director for IBM Innovation Center for Education, India/South Asia and Mr Hari Ramasubramanian, Leader at Business Development & Relationship Management in IBM Innovation Center for Education, India/South Asia.
One of the first sessions for students of School of Business and School of Design, was with Mr. Kamal Bali, President, Volvo Motors India Group. As the Chief Guest for the opening ceremony, Mr. Bali advised the students to be prepared for a VUCA (Volatile, Uncertain, Complex, Ambiguous) world.
For the students of School of Design, a string of masterclasses and workshops were held, including 'Paper Gets Smart' with Mr. Paul Damle, founder of Aetos Design and Innovation; a 'ClayMation' workshop by Mr. Dhimant Vyas, Creative Director of Zynga; and a session on Speculative Design by Mr. Hugo Pilate, a professional based in Los Angeles, Delhi, and Paris. Explaining the concept, Mr. Pilate said, "Speculative Design is not different from science fiction or sci-fi films. But, instead of writing or making movies, we make products and services in the design spaces."
Another luminary to grace one of the sessions for the School of Business students was Dr. Montek Singh Ahluwalia, Former Deputy Chairman of the Planning Commission of India. Commenting on the New Education Policy 2020, Mr. Ahluwalia said that he hoped that at least "1% of the country's GDP was spent on education in the next four to five years."
What the students have to say
Students have been enthralled by this framework of learning, wherein they have been able to acquire tangible skills in a condensed timeframe from the best in the business. The session on Personal Branding was conducted by Ms. Jessie Paul, an acclaimed author and founder of Paul Writer, a marketing advisory firm that works with several Indian and global clients such as IBM, Microsoft, LinkedIn, SAP, Oracle and Adobe.
Anmol, who has enrolled this year in BBA (Digital Marketing) attended a session on Personal Branding said, "I gained immense practical knowledge from the masterclass, which was directly linked to my specialization." Another student, Rakshita, said, "The personal branding session helped me understand how to utilize various social media platforms. I have already begun working on it." While Anamika found the sessions 'informative', Tanisha was 'inspired' by the industry stalwarts.
Regular semesters
UPES has now begun regular semesters in virtual mode for its engineering, computer science, business, design and health sciences students and will be starting online classes for media and law students, too, by the end of September. Eventually, face-to-face classes will be conducted as per the government and UGC guidelines. The university is taking all necessary measures to make its infrastructure safe for on-campus classes.
UPES has recently received the coveted SafeGuard certification from Bureau Veritas, after a detailed Health, Safety and Hygiene Conformity Assessment. Bureau Veritas, a world leader in testing, inspection and certification services, has developed detailed checklists with global health, safety and hygiene specialists to ensure that the safety procedures meet local and international regulations, as well as recognized best practices.

For more information, visit https://www.upes.ac.in/