DilPaziir
Lavender: Aromatic plant with high potential in J&K's agribusiness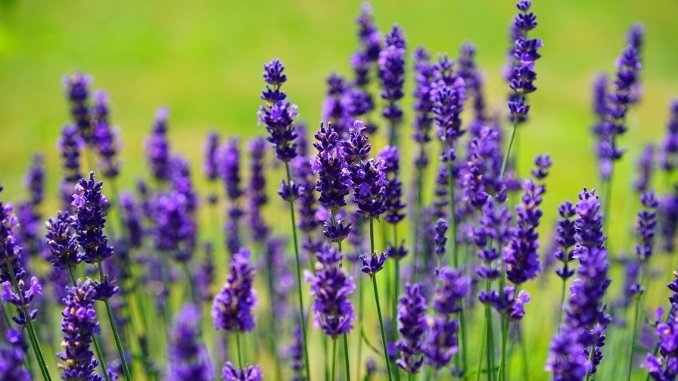 Interestingly, the Lavender herb yield declines after 12-15 years of planting and plantation need to be rejuvenated for this purpose.
SRINAGAR (J&K):
Lavender is one of the most prestigious cash crops in the world, nowadays grown for its essential oil used in medicine, cosmetics, perfumery and in aroma-therapy.
The Aromatic Herb
The herb is worth for treating fungal infections, hair loss and even wounds. Moreover, it is highly valued for its skin lightening quality and is commonly used in perfumes and shampoos also. Bakers also use it in bakery and other food items to enhance the taste.
When talked about its usefulness for the human body, drinking lavender as a tea aids digestion. In addition to helping with digestive problems, lavender is also used to relieve headaches, sprains, toothaches and sore throats.
Lavender flowers and lavender oil are bought and sold in the national and international markets and fetch a good price, and comparatively better each successive year.
Lavender as a cash crop in J&K
In Jammu and Kashmir's Doda district, some 200 farmers gave up the age-old traditional farming of maize crops and successfully embraced aromatic lavender cultivation that is comparatively more profitable, thereby, starting a "purple revolution" in the district. The farmers did so under the Union Government's Aroma Mission.
Over 100 acres of land belonging to 200 farmers have already been brought under cultivation of aromatic plants, especially lavender.
Pertinently, the Council of Scientific and Industrial Research (CSIR) initiated Aroma Mission to popularise aromatic crops and provide end-to-end technology and value-addition solutions to farmers across the country.
A native crop of Europe, lavender was introduced by Indian Institute of Integrative Medicine in the temperate regions of the Jammu division under CSIR-Aroma Mission in 2018 and tried to popularise it in Doda, Kishtwar, and Rajouri districts.
Kishtwar and Doda areas are best for lavender cultivation because the weather here is cold which is suitable for them.
Besides Jammu division, the aromatic cultivation is done in many areas of Kashmir division also. The quality of lavender which is grown at Pulwama and at many other places in the valley is commercially at par with the international standards and is being used in the Indian market.
Bulgarian & Kashmir lavender is considered the best ones and is more or less similar in various physio-chemical and other properties, thus, have created an international market place for their high-quality essential oil.
It should be noted that lavender flowers take 8 to 12 months to fully bloom. However, it blossoms in Kashmir in the last week of June and continues till end of July. Though there is later flowering in the month of November, it is not economical for processing of lavender oil. The flowers during that period are collected, dried and sold as such.
Interestingly, the herb yield declines after 12-15 years of planting and plantation needs to be rejuvenated for this purpose.
High Potential In Agribusiness
If latest technologies are taken use of for making a variety of products from lavender oil, it can become a huge industry that can provide employment to thousands of people in the Valley. And, there are people who have already realized the potential of these aromatic plants.
Ajaz Ahmad, from Gadbug area of Pulwama, is one such farmer who cultivates lavender in his orchards for commercial purposes. This is quite rare as most of the people in Kashmir Valley cultivate such plants for meeting their daily needs only.
Ajaz, who cultivated lavender this year on several kanals of land, said he is also providing employment to many youth.
Another local, Javed Ahmad, who indulges in the cultivation said, "My income increased manifolds due to the cultivation of lavender." According to him, he has been doing this business for the last 15 years but opines that full potential is something that needs to be worked on and achieved.
Ajaz, however, says that no sprays are required for the cultivation of lavender, which is some sort of an advantage and makes its cultivation economical.
"People should move away from traditional horticulture and focus on other lucrative businesses among which lavender cultivation is the best option," he says and adds, "Technology should be used to make products from this oil which will help it to become an industry itself."
Need For Increased Government Intervention
Given the fact that lavender is imported from Europe and then grown in hilly areas of Jammu and Kashmir, its production needs to be increased for commercial purposes so that it can contribute in Gross State Domestic Product (GSDP) and become an employment generating sector.
However, it will require government intervention through incentives in the form of training, financial assistance and technical expertise during plantation, cultivation, distillation, and marketing. Establishment of lavender parks should also become a priority of the local government.
Apart from becoming a desired destination for eco-tourism, if it receives the much-needed attention of the authorities, Lavender will surely become a prospective crop for agribusiness with very high potential in Kashmir for both unemployed and progressive farmers.
**
Dil-Paziir (Urdu; meaning 'heart-pleasing') is a special edition positive news series brought to you by Digpu, sourced from conflict areas starting from Kashmir. Our local journalists have successfully shared many inspirational stories from the valley – from the invention of E-Charkha, automatic ventilator in Kashmir, stories of brotherhood through to the first-ever cricket tourney for Blind sportsmen, all the stories make us awe-struck. These are NOT FOR REPRODUCTION.