Under The Mango Tree Society Wins HCL Foundation Grant Of 5 Crores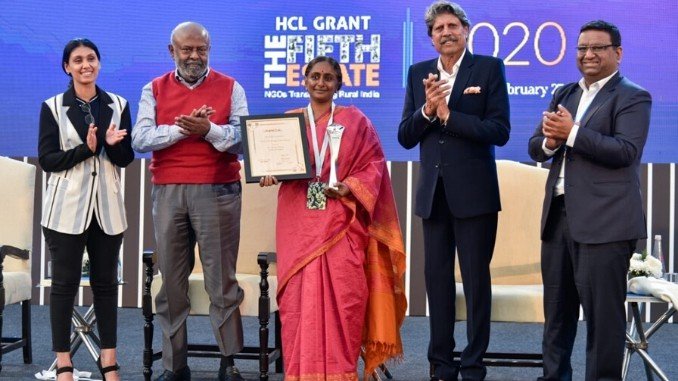 New Delhi, India —
Under The Mango Tree Society (UTMT Society) is pleased to announce that it has been named one of the proud recipients of the HCL Foundation Grant 2020. The HCL Foundation (HCLF), the Corporate Social Responsibility (CSR) arm of HCL Technologies announced the winners of the fifth edition of HCL Grant at a star-studded event, presided over by Mr Kapil Dev, a legend in the global world of cricket, Padma Bhushan award winner and former captain of the Indian Cricket team.
The HCL Grant is an institutionalized CSR funding that aims to recognize the fifth estate – (NGOs) Non-Governmental Organizations and support their breakthrough projects reaching out to the rural communities in the country.
Under The Mango Tree Society, winner in the Environment category is an NGO that works on raising awareness about the role of indigenous bees for agriculture and biodiversity in tribal communities in the states of Gujarat, Maharashtra and Madhya Pradesh. Initiated in 2009, the organization promotes beekeeping with locally available indigenous bees in three states in India under the mission of income generation and ecology enhancement to improve livelihoods.
Established in 2009, the not for profit Under The Mango Tree (UTMT) Society founded by Vijaya Pastala promotes beekeeping with indigenous bees to increase agricultural productivity, enhance incomes and improve livelihoods of marginal farmers in India.
Beekeeping through facilitating cross-pollination increases agricultural yields by over 40%, in addition to providing an income stream for farmers through selling honey and wax. UTMT Society's strategic initiative, "Bees for Poverty Reduction trains and equips smallholding farmers to use bees to increase incomes by as much as threefold. Under The Mango Tree Society has impacted over 67,000 lives, improving rural incomes by over 30%.
Speaking at the event, Sujana Krishnamoorthy, Executive Director, Under The Mango Tree Society said, "It is indeed an honour and privilege to have made it thus far and we are excited to be a part of this significant move towards building a sustainable future for marginal farmers as well as supporting the environment through beekeeping with indigenous bees. The NGOs are selected after a gruelling process of due diligence by Grant Thornton and being the youngest organization among the finalists, is a big achievement for us."
Three NGOs working in the categories of Education, Healthcare and Environment received a grant of Rs. 5 crores each under the HCL Grant 2020. The six other finalists across three categories also received Rs. 25 lakhs each, taking the overall grant to Rs. 16.5 crore.
The finalists and the winners were selected by a renowned jury, chaired by Ms Robin Abrams, Member of the Board, HCL Technologies, Dr Isher Judge Ahluwalia, Ms Pallavi Shroff and Mr Shiv Nadar. The award to UTMT Society will enable expansion of the work in the states of Gujarat, Maharashtra and Madhya Pradesh.
Ms Nidhi Pundhir, Director HCL Foundation, said "This is a very special year for us as we complete half a decade of empowering the NGOs that are committed to ushering change. This annual HCL Grant event is a culmination of our year-long efforts to identify partners who have the potential to achieve the maximum impact through their social development projects. We are truly honoured to have received applications from all parts of the country and my heartiest congratulations to the winning NGOs for giving us the opportunity to partner with them and support ideas for impactful positive change."
Till today the HCL foundation has helped improve over 1.5 million lives across the country.
"It is extremely important to bring equal opportunities to people coming from every stratum of society. I am highly impressed with the kind of impact these NGOs are bringing in the rural communities," cricketer and Padma Bhushan Kapil Dev said while addressing an event to announce the grant.
Vijaya Pastala also founded Under The Mango Tree Company India's only organic, single-origin honey brand, sourcing high-quality, fairly-traded honey from farmers cooperatives across India and packaging and marketing the honey for sale through retail, hospitality, gifting and exports. UTMT aims to become India's first national brand of organic, ethically purchased, single-origin honey, directly impacting the lives of poor farmers.
To know more about Under The Mango Tree Society and the UTMT Company, visit http://www.utmtsociety.org