Jog Falls, one of the 10 best places to revisit in India during monsoon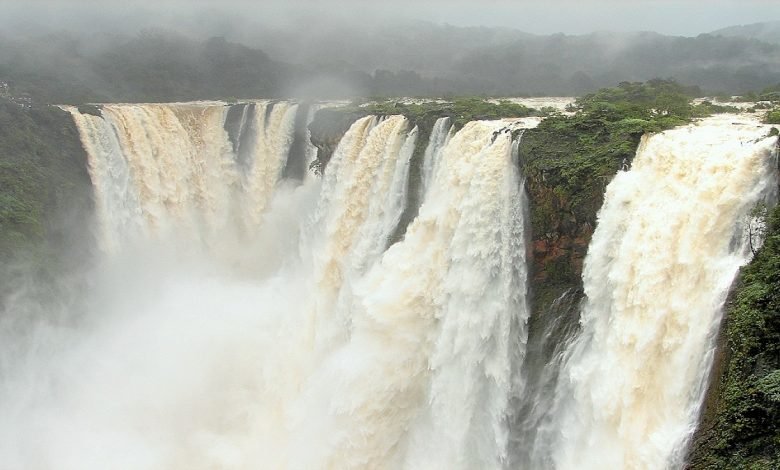 Jog Falls is different as the water do not drop down the rocks in a tiered style; it rumbles down the hill avoiding contact with the rocks, making it the highest un-tiered waterfall in India
Jog Falls, the second-highest plunge waterfall in India, is one of the favorite spots to visit this monsoon. Jog falls ranked 36th in the list of free-falling waterfalls, is 490th in the world by the list of waterfalls by total altitude.
August-December is considered the season of largest flow and the most suitable time to tour. Jog is situated 30 km away from Sagara and 379 km away from Bangalore.
Jog Falls is different as the water do not drop down the rocks in a tiered style; it rumbles down the hill avoiding contact with the rocks, making it the highest un-tiered waterfall in India. The excellence of the waterfalls is magnified by the lush green surroundings, which present a spectacular backdrop.
The government has been taking various steps to enhance the place from a tourist point of view. The ease of reaching the point, roads, infrastructures, guesthouses and other facilities are being upgraded.
How to Reach Jog Falls
Nearest Railway Station: Thalaguppa, Shimoga district.
Nearest Airport: Mangalore International Airport
By Road: National Highway number 206, from Bangalore 378 km (Bangalore-Shimoga-Sagar-Jog), from Sagar 45 km, Siddapur 21 km, Honnavar 56 km
Nearby places: Honnemardu, Karwar
Rs 185 crore sanctioned for Jog development
Former Karnataka CM BS Yediyurappa signed a proposal, just before his exit. The plan was chalked out by the Jog Falls Management Authority to draw more visitors to the destination.
The Indian Express reported, according to the proposal, Rs 185 crore would be used in three stages on a series of highway and civil works in and nearby the waterfalls.
Members of the Karnataka Biodiversity Board have firmly asserted their view against taking up any more works in Shivamogga, as the district faces the critical threat of avalanches and ecosystem devastation.
Officials from the Karnataka forest committee pointed out, "Even as the committee members assert that the ropeways will be in non-forest property, they are neglecting the fact that the other end is connected to the forest land. The plan is to construct a ropeway through the falls. It's a reckless expenditure. Illuminating the falls at night has previously been strongly opposed."
"The plan lists out many unwanted constructions, which will concretize the whole place. It is not required. The place is already overstressed because of the excessive increase in footfall. It is also surprising that only last year, the board was planning to create a Rs 165 crore proposal, which has increased now," said a tourism department official.