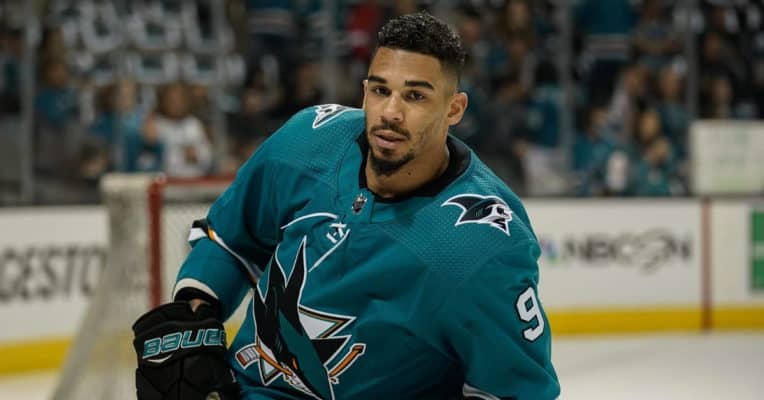 November 7, 2019 —
Evander Kane gambled a lot of money in Las Vegas and one of the casinos in Las Vegas demands 500,000 dollars from the NHL professional. Gambling debts are honorary debts. But not for Evander Kane.
The Canadian ice hockey professional Evander Kane is facing legal trouble due to gambling debts. A casino in Las Vegas has sued the San Jose Sharks wingman. Kane is said to have gambled away in several casinos between 20,000 and 100,000 dollars in "The Cosmopolitan" around the 15th April but never paid them. According to information from the Las Vegas Review-Journal, the casino is claiming a total of 500,000 dollars back. At that time, the Sharks made a guest appearance in the player's metropolis to compete against the Vegas Golden Knights in the first playoff round. Kane signed a $49 million seven-year contract in San Jose last year.
This latest news was published yesterday by Mybettingdeals.com. MyBettingDeals is a new generation of content providers with background information on current events around sports, poker tournaments, casino news, eSports news and events, prize money, and lottery jackpots. However, Mybettingdeals offers more than this! There are detailed video tutorials guiding the interested player through the registration process, the bonuses on offer, the various deposit options, and the gaming experience of its listed brands.
According to the CEO of Mybettingdeals, it is these additional services that give the customer exceptional quality and allow him to concentrate on the experience. In today's fast-paced world, customers appreciate service offerings that facilitate a smooth process. The news and entertainment portal is the first port of call for all online casino enthusiasts. As one of the few portals in the online gambling sector, keen players will find access to the most influential brands in sports betting and online casinos. Detailed research combined with hand-picked bonus offers brings many added advantages to the customer.
More services are being planned by the MyBettingDeals team and will be successfully rolled out in 2020 with more features being launched in the sports betting vertical due to its popularity with MyBettingDeals' customers. The highest priority is always the best benefit for the customer. Thus, this unique iGaming portal also offers keen players access to approximately 2,000 online casino games for those players who have registered with MyBettingDeals.
Everyone knows that knowledge is power and MyBettingDeals also believes Knowledge is Money, so this week, MyBettingDeals has published another eBook "Crack the Blackjack Code" on Amazon. The book can be purchased for 50 USD only or can be obtained for FREE if you register with MyBettingDeals today. There are many more publications in the pipeline covering everything from the licensing and regulatory situation for sports betting and online casino providers in the USA, UK, Canada, to more handy online gambling tips and tricks. MyBettingDeals is on its way to becoming the number one content provider for all iGaming products. The management confirmed that this quality standard would be sustained. "We will always keep the customer interest first in mind, and all content and features we create will be heavily focused on their needs".